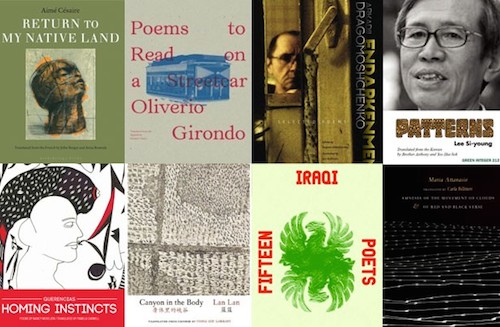 Entropy has listed the top 93 poetry books in translation from 2014, referring to Coldfront's 2014 best-ofs, writing: "Since Coldfront didn't mention any books of poetry not originally in English in their list of the top 40 poetry books of 2014, and since we don't want to wallow in bitterness, we present. . . ." They also point to a larger concern:
Yes, in fact, there were only 93 books of translated poetry published in the United States in 2014 (according to the Three Percent database). 93 books to represent the entirety of world poetry in other languages! So few, you say?

This is an old and by much-discussed situation: the US doesn't translate and publish many authors from other countries, especially not in comparison with other countries. US literary culture is insular and isolated. US literary culture is all too wary of translations (¿¡¿what if something is lost?!?). And if translations do get published, attention is less than overwhelming. So when a list like Coldfront's—full of contemporary writers we love—misses all of these books, it's worth pointing it out. We could select our favorite books from this list, but honestly, there are only 93! We want to let the love go to all of them.
Their list includes Pierre Joris' translation of Breathturn into Timestead by Paul Celan; Return to My Native Land by Aime Cesaire, translated by Anna Bostock and John Berger; Sorrowtoothpaste Mirrorcream by Kim Hyesoon, translated by Don Mee Choi; and a ton of other important reads. Ninety, to be exact. Check out the full list at Entropy.