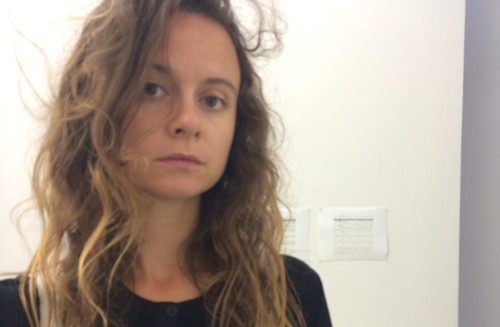 Emmalea Russo is interviewed for The Textile Arts Center blog! Russo uses "sculpture, installation, and text, [making] process-based works about voluntary and involuntary actions, the central nervous system, and repetitive tasks. She is the author of they (Gauss PDF, 2014), CLEAR1NG (Dancing Girl Press, 2014), and book of southern and water (Poor Claudia, 2013). And yes--if you were already thinking it--one could draw parallels to her work and Jen Bervin's. The poet and artist gave her "the amazing gift of tons of thread" a few years ago. "The impetus to start working with textiles came from a frustration with the intangibility of language. I had long been taken with the process of writing – the physical activity. Textiles seemed like another way to process and a natural extension of writing." More:
Q: In your artist bio you speak of your interest in questioning voluntary and involuntary actions, the nervous system, and repetitive tasks. Can you expand on that a little bit?

I'm interested in the mind-body connection. I like trances and meditations and typing, sewing, and walking offer those sorts of spaces. Sometimes work accrues. I might return to the studio – or wherever – and work with my own writing and research and/or the work of others. I am interested in tracking my intuitive connections between the body's electrical wiring and the brain as a physical object.

Right now, I'm working with electroencephalogram (EEG) readings. I'm a beginner and the readings are vast fields of information that I don't have access to right away. I have to carefully learn this new brainwave language. The level of control I have or think I have over my mind-body certainly influences my perceptions and decisions. Questions I'm often asking: How can I make this visual? How do I spend my time?

The central nervous system processes information but not always seamlessly. What happens when wires get crossed or communication is faulty? It reminds me of the internet. Often my work involves a visible processing of information that is hopefully not separate from my daily life.
And like a good Brooklyn poet, Russo is a walker:
Q: If you had a day off and were free to spend it doing all of your favorite things in Brooklyn, what would your day look like?

In the studio. With my friends. Walking, too. Brooklyn is one of the best places to walk. Have you heard this term psychogeography? I'm interested in that – a playful gridded wandering and new routes around the city. Lyn Hejinian wrote: "In the city there are only four directions for a walk."
Read the rest of Russo's interview at Textile Arts Center, and definitely check out her Gauss PDF book, they, if you're into this thread...