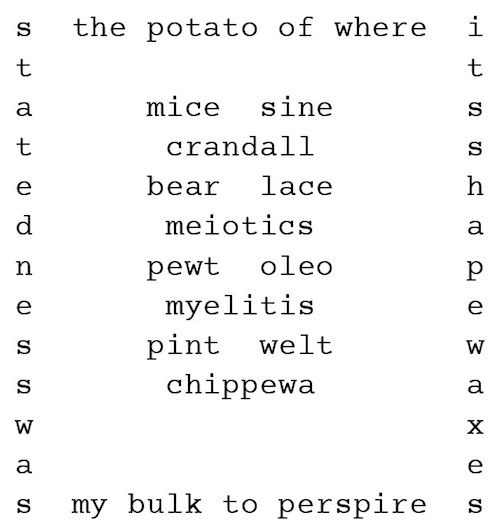 We were delighted to discover the spring issue of BOMB in our inbox, and with it, a piece by Ian Dreiblatt on P. Inman's recent selected poems, Written: 1976–2013 (if p then q, 2014)! "Inman is a realist of language's tendency to become material," writes Dreiblatt, "his poems exemplify the ways in which writing both preserves and interrupts language, and how it fluctuates in an ambivalent space between being a record of vanished speech and one of language's living forms." More:
Inman's output, which since 1976 has been extremely consistent and clear, is disjunctive and iterative across a drift of vectors. His written statements may be best understood as condensed assertions of fixity within the unfixity that more generally characterizes language. (At one point, he writes of "fixture / spots. bits of how imagined the others met with facts.") Inman subjects this fixity to strain, restaging familiar kinds of textual fragmentation and degeneration in a vocabulary and affect that feels nostalgically posthuman:

its. ri. ce. subtr. action. ch. in. len. gths. exis. ted.
out. ea. ch. rese. mble. tha. t's. le. ft. curr. ency.
fi. ts. the. ses. blac. ked. in. app. le. api. eces.

Moments like this seem to focus on the interruptibility of language even in its most enduring form. Meaning, by contrast, is treated as a symptom of language's materiality.

[...]

[Inman's lines] can definitely be funny ("Guinness Book of / kinds of emphasis. smallpox / middle period.") Some read like transliterated shards of ancient tablets ("cork,thoi,prep / olin,rubs / perq,tracted,immathace,atpiques / errit,hist.") Words and phrases skip around within and across poems, recurring, in various configurations, across decades of work, producing a kind of ambient, immanent lexicon of rice, snowfalls, turning into footsteps. And for all the emphasis on language as written, Inman never forgets that we hear what we read, torquing the sound out of particular words and phrases for pages.
Find the full review at BOMB.