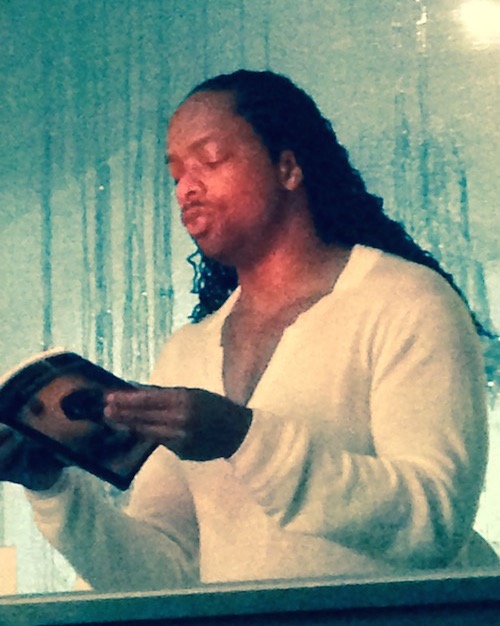 I avoided writing to you because I was in one of those moments of anxiety where I don't allow the joy of my life to outweigh my fear of what you might think of me.  But last night--the night of my birthday--I stayed up late enough to see the sun rise and remembered that same sun would be shining on you.  I mean that I remembered you love poetry as much as I do...  And that our love for one another rises out of that love for that which was here before us and will be here when we are gone.
So I want to thank you for that:  for believing in me when I was busy feeling sorry for myself about what amounts to nothing, for waiting on me to come back to this lovely land of gratitude.  I'm here now for you and ready to let you know what I've been thinking.
Toward the end of 2014--when some of us were still in new tears about this nation's oldest troubles--Weston Cutter asked me a few questions for an interview he published a couple days ago.  One of those questions:
"You talk, in another of the interviews up elsewhere about how you want your legacy or your work to enact social change. I'm curious what change you'd like your work to establish or usher."
I'm seeing now that my answer doesn't actually address the question, but it did give me the chance to say what now seems the perfect introduction to what I'll be sharing as I write to you over this last half of April.  That answer:
"Here's what I believe. I believe that the best poetry has an effect on the mind and the emotions. I believe that any effect on our mind and emotions leads us to imagining other ways we could possibly live on this planet. I believe that the more we imagine these other ways of life, the more we find ourselves in longing and/or attempting to make these ways of life a reality. I'd love to know why so many poets and readers of poetry get upset about the fact that a poem can lead to a change of mind and, therefore, a change in one's own reality. Who, exactly, does my belief hurt? Yet, when asked about poems giving rise to social action, poets squirm. What happens to these people when they read a poem? In what world is pleasure itself not political? Or is it because I am black and gay that I see how political pleasure is? We all agree that poems mean for us to feel. Why can't we agree that feelings shape our actions? It's not as if I'm claiming that I would ever privilege a bad poem about the unending trouble between Israel and Palestine over a good poem about a sunrise."
Stay with me, my love.  The rest of this short interview is here.
I'll be saying more any minute now.  And I'll keep things short so as not to take up too much of your writing time.  I hope you'll be there to listen.
Yours, jb
Jericho Brown is the recipient of the Whiting Writers Award and fellowships from the Radcliffe Institute for Advanced Study at Harvard University and the National Endowment for the Arts. His first book, Please (New Issues, 2008), won the American Book Award, and his second book, The New Testament (Copper Canyon, 2014), was named one...