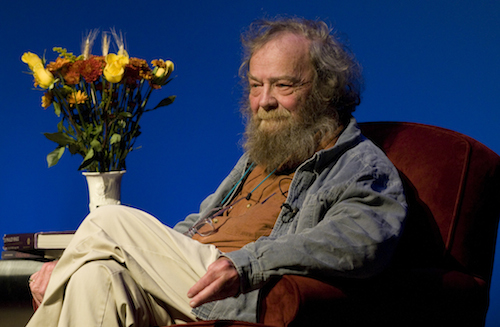 Although he quit writing poetry two years ago, citing a connection between poetry's sensuality and his octogenarian age, Donald Hall did manage to speak rather candidly with the New Hampshire Union Leader about his observations after decades writing poetry. (Although we know little about aging, we agree that poetry is a truly sexy craft.) From New Hampshire Union Leader:
WILMOT - This century appears to be a promising one so far for poetry.

Cities from Manchester to Pasadena host poetry slams. Hip-hop has entrenched its rhythmical brand of poetry into popular culture. And even small-town bookstores feature readings from poets.

Despite the groundswell, New Hampshire's most famous living poet announced two years ago that he was done with the craft.

"I'm too old," said Donald Hall, 86, this country's 14th poet laureate. "I think that poetry's very sexual, and I think it's a lack of testosterone or low testosterone. In the early 50s, I said that poetry was 'rich with sensuality.'"

Hall spoke recently in the book-lined living room of the Wilmot farmhouse that has been in his family for four generations. His right knee is shot, making the front couple of porch steps as daunting a challenge as a granite cliff on his beloved Mount Kearsarge.

He sits in an upholstered chair that is on a 6-inch riser; easier for him to get up and down. He looks out antique glass windows, the kind that warp outside objects like a funhouse mirror. Closest to his view are the peonies and other perennials that his deceased wife - acclaimed poet Jane Kenyon - planted decades ago.

Hall's best poetry, he said, was written in his 40s and 50s. Over time, his poetic abilities waned. So he just put an end to it (although he does revise previously written poems).

Hall still writes. Like a baseball player who trades his mitt for a golf club, he's turned to less vibrant endeavors. He answers nearly all letters that come his way. And in 2014, he published "Essays after Eighty," a wry look at being old. The book landed on the New York Times Bestseller list (for a week, he notes).

"Certainly, he has been a big name of his generation, partly because he so dedicated his life to writing," said Acworth resident Alice Fogel, the current New Hampshire poet laureate.

In the mid-70s, many writers found his career move inspirational, Fogel said. Encouraged by Kenyon, Hall gave up a tenured job at University of Michigan and moved to the Wilmot farm to make a living writing.

From there, Hall earned his place among New Hampshire's literary greats. Robert Frost, Maxine Kumin, Charles Simic. All are national poets laureate; each lived in the Granite State. Frost, Hall and Kumin wrote vividly about New England.[...]
Continue at New Hampshire Union Leader.