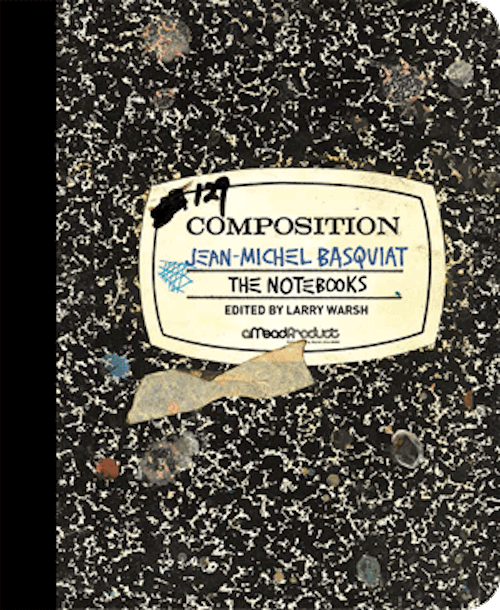 At Hyperallergic, Megan N. Liberty gives Jean-Michel Basquiat the writer his due, referencing the current show at Brooklyn Museum, The Unknown Notebooks. "Seeing and reading the pages in the gallery certainly make one want to spend more time with Basquiat's writing, and Princeton University Press's forthcoming facsimile of the notebooks provides this time for closer study," she writes. The press states that The Notebooks "vividly demonstrate Basquiat's deep interests in comic, street, and pop art, hip-hop, politics, and the ephemera of urban life. They also provide an intimate look at the working process of one of the most creative forces in contemporary American art." Liberty gave them a close read. An excerpt:
While there are certainly pages that seem more like sketches than final products, these writings are not tests for ideas to be finalized in paint; they are poems in the vein of Basquiat's influences such as William Burroughs and Rene Ricard. Their status as poetry is noted in Jennifer Clement's Widow Basquiat, the story of Suzanne Mallouk, Basquiat's on-and-off girlfriend: "Jean-Michel comes into the bar every day. He reads Suzanne his poems from his 'Black and White Notebooks.'"

Throughout his writing Basquiat continually reuses words and phrases, each time building and layering further. He writes, "I FEEL LIKE A CITIZEN IT'S TIME TO GO AND COME BACK A DRIFTER" as a single line across the top quarter of a page in the first notebook. The following page continues:

I FEEL LIKE A CITIZEN IN THIS PARKING LOT COUNTY FAIR
IT'S TIME TO GREYHOUND AND COME BACK A DRIFTER
PUT IT ALL IN ONE BAG

Haunting, the capital letters, appearing like hieroglyphs, scream at the reader. His mark-making is both chaotic and deliberate. Dieter Buchhart notes in his Brooklyn Museum catalogue essay, "The line itself remains a graphic element, however, that is randomly variable, with the letter E frequently appearing as three parallel lines — as is the case in the two poems above, where the two Es in "FEEL" appear as six linked lines, visually dragging the phrases as they are elongated across the page. This elongation is also auditory. In reading the collected poems in one sitting, flipping back and forth between its pages, patterns emerge — the repetition of words and phrases and the layout of text across the page call to mind the concrete and beat poets, who engaged with spatial layouts and auditory rhyming and pacing....
Read the full review at Hyperallergic.