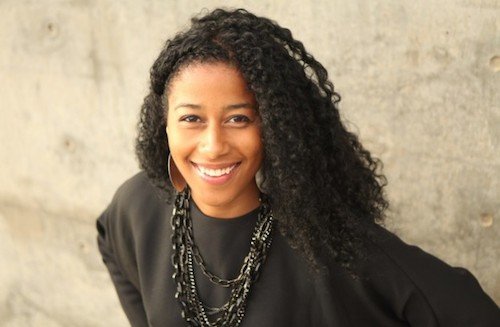 The Voice's portrait of Monet starts at #SayHerName, an African American Policy Forum event in NYC where Monet performed a poem about the death of an African American girl during a police raid at her grandmother's house in Detroit. From there, we learn about Monet's role as an outspoken activist in the spoken word scene. ("We're talking about downright cruel injustice that no one wants to address.") From The Village Voice:
Last month, during a rally in Union Square, poet Aja Monet took the podium dressed entirely in black, looking somber and resolute like a woman in mourning. A banner fluttered in the wind behind her head as she gripped the microphone, a flag adorned by photographs of the black women and girls who have lost their lives to police violence over the years. "I am a woman carrying other women in my mouth," she began, her voice forceful and clear. "Behold a sister, a daughter, a mother, dear friend."

But as Monet reached the crescendo of her poem in which she calls out the names of the dead — Rekia Boyd, Tanisha Anderson, Yvette Smith, Aiyana Jones, Kayla Moore, Shelly Frey and countless others — that voice started to tremble and shake.

"Aiyana Jones. I tripped up on that name because I just thought of this little innocent [girl]. Her life was taken," Monet, 27, tells the Voice, once again sounding as if she is fighting back tears. She is remembering the 7-year-old child from Detroit who was shot in her sleep during a police raid on her grandmother's home in 2010. Earlier his year, the charges against the officer who killed Jones were dismissed. "It's deeper than, 'It's not fair.' We're not talking about us complaining about what's fair. We're talking about this downright cruel injustice that no one wants to address."

Monet's performance was part of a vigil organized around the campaign #SayHerName, a movement put together by New York's African American Policy Forum in the hopes of raising awareness about the female victims of police brutality. While the #BlackLivesMatter campaign has successfully turned slain African-American men like Trayvon Martin, Michael Brown and Eric Garner into symbols of a larger cause, supporters of #SayHerName argue that black women are too often left out of the conversation. The goal is not to minimize the severity of the injustices endured by black men in this country, but rather to expand the discussion and form a more complete and accurate narrative of systemic oppression.

"This isn't just a black man and black woman issue. This is an issue of humanity needing to wake the hell up," Monet says. "Black women, Hispanic women, Asian-American women, we are all dying. We are all dying and it is important that we start to talk about why." [...]
Learn more about Monet at The Village Voice.