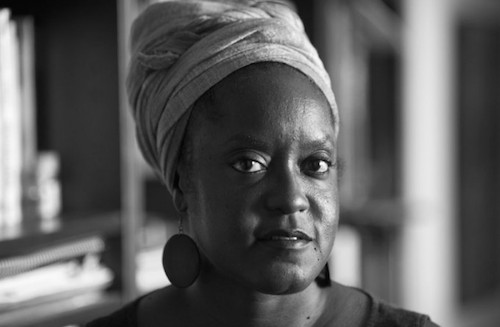 At Gathering of the Tribes, a review of Tonya Foster's new book, A Swarm of Bees in High Court (Belladonna 2015)! Patricia Spears Jones recalls an influential image for Foster, Max Ernst's painting, A Swarm of Bees in the Palace of Justice, which "provided a jumping off point for [Foster's] consideration of shape and color, colored by myriad experiences from an erotic encounter in which the speaker reflects while her lover sleeps his satisfied sleep to bullets and basketball. Bees argue in the rooms of this artful house. They question power. They find sweetness." More:
Color becomes a motif throughout the book, particularly red. Red for blood, for flower, for rage, for love. And with red, she explores couplets and quatrains (lyricism's favored stanzas):

red culled from rubia or madder root lends the hermit majesty, (the woman infamy),

red culled from sawdust of the brazilwood tree primped a pope's robes, pimped pus(sy),

red culled from clay, from crushed cochineal, kermes, from worms dried and ground,

red culled from cinnabar mined by the enslaved, the imprisoned, not-I's,

(In/Somniloquies)

The color Black allows for an interesting contrast: "Blackity-black girl" who hears "Voice of a woman on tv offers her sick roommate medicine." And another "Voice of a woman on a corner: "Stick your thumb up your ass. Smell it." Black women as healers, soothers, aspirational shills (oh Oprah) in contrast with that "Blackity—black girl" who is simply tired of the shit, oh which will be that Queen? Who hears "the hive of sound/"As if beats blind us."

Foster narrates the external anxieties meted out in communal theater—the streets, the basketball courts of Harlem, and other urban enclaves where Blacks mingle for good and ill. The "Bullet/In" section focuses on the missiles that meet too many bodies in urban spaces such as Harlem. Again, the poet effectively uses tercets. Her diction is high court street—one thing you learn living in this city is how well versed many young people are with the courts, with police procedure because all too often they have found themselves in court. As the poet notes, "bullets can/Blot a page, train an eye to/follow and often followed are "Bodies of young men—site specific installations—streets, stoops, corners, cells." Black bodies male and female too often are found violated in this society. The ordinariness of this violence is enraging and Foster has found a way to explore that rage, "beats blind us."

The Belladonna Collaborative is bringing out important work by African American women poets from highly diverse backgrounds including Latasha Diggs, TWERK, and R. Erica Doyle's proxy showing poets whose use of language is breathtakingly daring. Now, Tonya M. Foster's A Swarm of Bees in High Court is added to this vital list.
Read the full review at Gathering of the Tribes. Photo at top by Ted Roeder, taken as part of the Poetry Project's Portraits of Poets series.