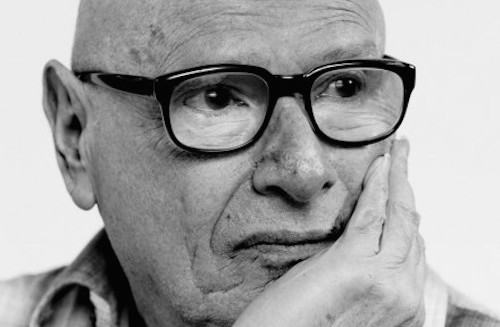 "Although I feel I am a poet, please don't introduce me as a poet."
We're sorry, Bill: Last week, we heard through friends that the extraordinary New York School poet Bill Kushner has died. Bill, born in 1931 in the Bronx, was a delightful, hilarious, loving person, who studied with the likes of Kenneth Koch, Alice Notley, Ted Berrigan, Bernadette Mayer, Steve Carey, John Godfrey, Maureen Owen, and Lewis Warsh, with whom he was close. Publisher's Weekly wrote of In the Hairy Arms of Whitman--part of Melville House's New York Poets series (2003):
...Kushner takes the New York School aesthetic back to its rich gay roots; his Chelsea-based speaker comments on everything from sexy muscled passers-by, late night tricks and imaginary giraffes drinking blue oceans in a family room. But above all, Kushner is a master poet of loneliness, casting it in a cool, benevolent, magical light, evoking childhood (years when most sleep alone) and lunar spaces where the laws of the earth do not apply: "I am all for/ law & order, have you seen my room?/ They call it THE RAT PATROL who have/ seen my moon. I often wonder how/ many people at one time there are looking up/ to see me dreaming on the moon, waving away."
Kushner was also the author of Night Fishing (1980), Head (1986), Love Uncut (1990), He Dreams of Waters (2000), That April (2000), In Sunsetland with You (2007), Walking After Midnight (2011), and others. His books were published with small presses--from Lewis Warsh's United Artists to Rattapallax to Spuyten Duyvil--and are available at SPD. He also worked as a playwright, actor, and director at the New York Theatre Ensemble and Theater Genesis in New York, and was a two-time NYFA Fellow. Talking of the two lives of poetry and theater, he once told Don Yorty:
I had spent a number of years doing plays, writing plays Off Off Broadway, and you know I got some, a lot of good reviews and thought my life would be in the theater, and I've finally come to realize that theater doesn't have the same pull on me that poetry has. Poetry, being a poet, and thinking about writing a poem everyday, somehow is my life. Ah, if I write a good poem, like I say, It's a miracle. If I write a so-so poem, a lot of the poems are just so-so, then it's just part of the process. I think of it like painting, you know, it's all layers and layers and layers, and I think all of the words come to me from out of the past, to use a movie title, Out Of The Past, and plays don't do that. I have a basic need to be writing poetry, a basic need to do it, and if I ignore that need then I might just as well get in bed and pull the covers over my head.
At the Brooklyn Rail, Jeffrey Wright wrote of Walking After Midnight that "[m]emory and imagination are play-lovers and you are out there on the stage, too. Thanks. Thanks to Bill Kushner. This unblinking collection is a tour of whistle stops under a strobe light." Eileen Myles said of That April: "Bill Kushner writes poems made out of fluttering wings."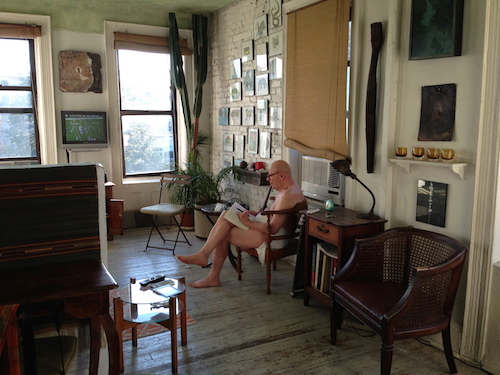 Don Yorty, who took the photo of Kushner in his home, above, writes: "The man lives nude whenever possible; always trying to get back to the beginning, an Eden perhaps. Bill had some problems in his apartment and stayed with me for awhile. The first thing he did, once he was settled in, was find my signed copy of Alice Notley's A Culture of One and keep it as his own, reading it and reading it over and over." Yorty published some of Bill's poems on his blog; and he's interviewed him several times.
And in an interview with Cliff Fyman at Rain Taxi, Kushner talked about the very early days of the scene around The Poetry Project (for more on this history, read Miles Champion's "Insane Podium"):
BK: At the time I took [Kenneth Koch's workshop] there was no Poetry Project. Kenneth suggested I go visit Le Metro, which was situated near St. Mark's Church. I think it was a furniture store, and the owner and his wife realized they could make money by having these weekly poetry gatherings. The first time I went to Le Metro I had a poem about a mouse (laughs) that I had written in Kenneth's workshop that he liked. I figured I'd read it. I walked in and the place was kind of crowded with poets, most of them guys. I was still grappling with my shyness and my gayness—I think they were intertwined. There was Allen Ginsberg, very much like the head of the group at Le Metro. Ginsberg had a great presence, you know. He kind of filled a room. I don't want to say in a supernatural way. His eyes were everywhere. He was really alert and alive. Kind of scary, to me (laughs). That day Gerard Malanga was there whom I thought was a dreamboat (laughs). Malanga was a very pretty young boy, especially back then. Elie Kazan with either his wife or his girlfriend, a very pretty woman. It was a very happening scene. Some guy came around and said, "I'm making up a Xerox magazine of the poems today so if you want to be in the magazine give me three dollars and I'll Xerox it up and be right back. Allen has a poem in here, and a lot of the guys." So I gave him three bucks. He came back with a very nice Xerox magazine. Allen's poem was in it. I believe it was about the tenements of East 12th Street.

I was sitting on my secrets that I was a bad person, that I was gay, I was unlovable, and I didn't think that was the place for poetry. I had this crazy idea from school that poetry should be beautiful thoughts. So there was no place for me in poetry land because I had impure thoughts. Impure, ugly thoughts of hot sex and penises and G-d knows what else! (Loud laugh.) I shudder when I think of myself then. It's a hard thing to get over. Like I say, I studied with Kenneth and he liked what I was doing. I was auditing his workshop. I was his monitor. I got a big discount off from $200 down to maybe $50 for just checking people in at the door.
You can listen to Bill reading his poem, "Thinking," at the Poetry Project in 2010, here.
We will miss him.