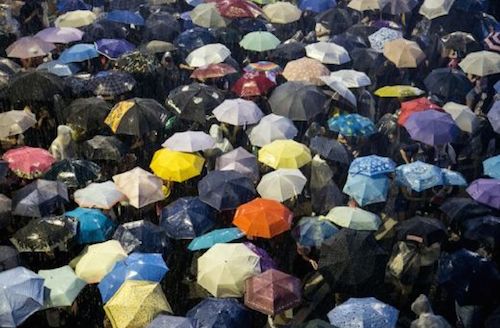 Poets & Writers breaks down the breakdown (hey!) of the University of Hong Kong's five-year-old MFA program, which announced its imminent closure (to the program's founding director!) in April, despite all other signs of success: "Word of the shutdown came in the wake of the so-called Umbrella Revolution last fall, when hundreds of thousands of protesters packed the streets of Hong Kong to demonstrate against new voting restrictions and wider threats to free expression. Several City University students and faculty saw a clear connection between the movement and the shutdown of the MFA program, and launched a fierce protest against it," writes Joanna Scutts. More from P&W:
For a short-lived and ultimately ill-fated program, City University's MFA has had a significant impact. Established in 2010, it enrolled approximately twenty students each year, drawing writers from twenty different countries—from Denmark and Australia to Singapore and the United Kingdom—a level of diversity unparalleled by most U.S. programs. "The students were bringing in a different canon, different languages, different political histories and contexts," says Canadian-born novelist and City University faculty member Madeleine Thien. Xu also points to the program's diversity as its core strength. "It was very interesting in workshop," she says. "You'd have a Japanese student, a Korean, an Australian, British and American students, all speaking different English, spelling English differently, punctuating differently—it was remarkable, the dialogue that happened out of that, the cross-fertilization." Xu worked to build an equally diverse faculty, all with some connection to Asia. "They're like a mirror of the students," she says. "They're from all over."

As for the program's financial health, Xu reports that the MFA lost money in its first four years, but had begun to bring in a profit in its fifth year. Furthermore, according to the Quacquarelli Symonds World University Rankings, the City University English department jumped from "nowhere," as Xu puts it, to fifth in Asia—a notable achievement for an institution traditionally focused on linguistics and communications rather than literature. And while the value of an MFA program is notoriously hard to quantify, City University's success rate, measured by the publication credits of its alumni, is surprising even to its director. In just five years the program's students have produced seven books, either published or in contract, and have published nearly a hundred pieces in literary journals throughout the world.

Protesters pointed to these successes as reasons to keep the program open, putting up a fight in the press and social media, and through a sustained letter-writing campaign. More than eighty writers, including Junot Díaz, Rae Armantrout, and Robert Olen Butler, signed an open letter urging the university to reinstate the program. "The protest really scared the hell out of them," Xu says of the university administrators. "They had never seen anything like this. It was public, and it was large, and everybody in the universities in Hong Kong knew about it."

In May, Chan and the university's provost, Arthur Ellis, met with protest representatives to discuss the closure, but maintained that the program was financially unsustainable—a claim protesters disputed in a May letter to the university senate...
Read on at Poets & Writers.