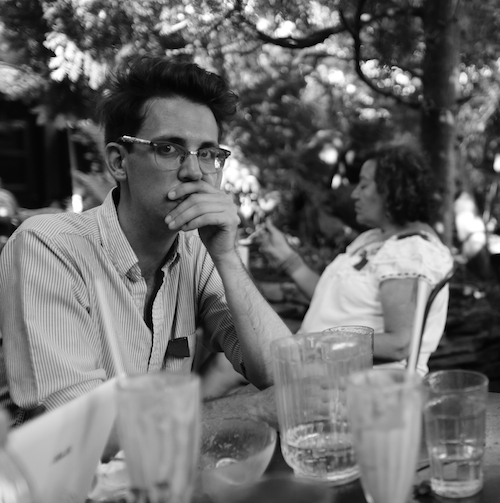 A new project nearly off the ground: Editing Modernism in Canada shares PHONOTEXT.CA, an open-access sound recording initiative started by poet and Amodern managing editor Michael Nardone. "The function of the site is simple: to organize and provide details on sound recordings related to Canadian poetry and poetics; to document the specific format(s) and relevant bibliographic information for each recording; to list where recordings can be located and listened to; and to provide links to recordings that are digitally available," writes Nardone.
On the heels of SPD's recent "9 Reasons Canadian Poetry Is Better...," PHONOTEXT.CA is a welcome elaboration.
Additionally, phonotext.ca will host a digital library of writings focused on the intersections of sound, performance, poetry, and poetics in Canada. It situates these writings amid a vast repository of sounds.

The primary aim of this project is to aid listeners so they may access recorded materials, while emphasizing the importance of the sonic, performative, and medial aspects of poetic works. The expansive and detailed catalogue of poetry-related audio recordings will be searchable by the name of the poet, the format of recording, and the location and year in which it was produced. In combining digital and analogue recordings, phonotext.ca will assemble both a poetic and phonographic history. We intend for the site to be of interest to those involved in the sonic arts – poets, musicians, writers, teachers, researchers – and to curious listeners. The index will also serve as a tool to assist archivists and institutions in the circulation and preservation of materials always under the threat of being lost or discarded.
"We are currently developing the front-end of the site, and plan to have an initial version launched in late 2016. In the meanwhile, we are building our database of materials for the site. We currently have gathered just over 2,000 phonographic entries for the index of sound materials, and hope to add an additional 4,000 entries by launch date." Read more about it here.
In the meantime, enjoy SPD's pointer to M. NourbeSe Philip reading from Zong!
https://youtu.be/my4eE4denus
At top: Michael Nardone; photo by Joshua Clover.