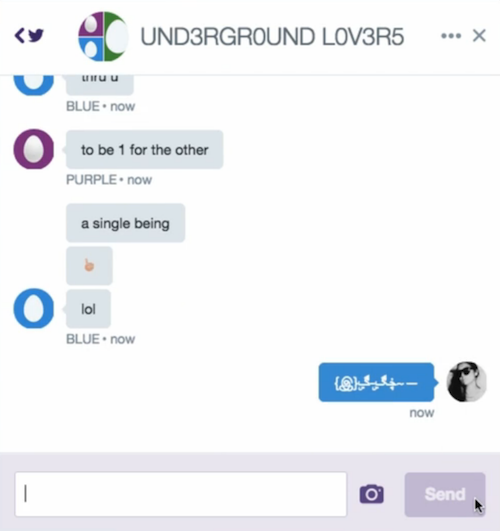 And speaking of digital publications surfing their way onto the interwebs this week, Sophia Le Fraga's third installment of her "anti-play" trilogy, UND3RGR0UND L0V3R5: A Comedy-Ballet without Dance or Music, debuted on Gauss PDF. We wrote a little bit about the first piece, W8ing 4, and about the "First Readings" round-table at Jacket2 last year. A little about UND3RGR0UND L0V3R5
"UND3RGR0UND L0V3R5," the third installment of Sophia Le Fraga's absurdist poetic trilogy "TH3 4NT1-PL4Y5," is an adaption of the Jean Tardieu's play of (almost) the same title, in which 24 characters make small talk in the subway, and which was cited by Samuel Beckett as a major influence on his own dialogue in Waiting for Godot. In this version, Twitter DM replaces the subterranean commute, but the play still centers on a central dialogue, between HE and SHE, or BLUE and PURPLE, a couple whose increasingly frustrated dialogue causes their relationship to unravel to the point that "HE" forgets his lover's name entirely, and is driven to increasingly anti-heroic means.
Now's your chance to check out all three "anti-plays" together at once, here, here, and here. And if you're in NYC on Friday, you can see a live performance of UND3RGR0UND L0V3R5 at Artists Space.