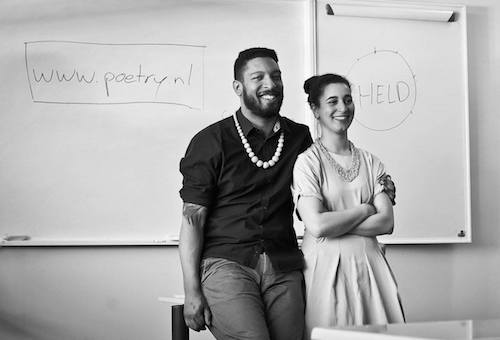 Rotterdam, The Netherlands
Poetry International is a foundation based in Rotterdam, the Netherlands. Our two most widely publicized activities are our web magazine and archive—which publishes profiles and poems (always accompanied by English, and sometimes Dutch, translations) from poets all over the world—and the annual Poetry International Festival. The festival takes place over a week in June, and we invite approximately 20 poets to Rotterdam for readings, concerts, film screenings and exhibitions. For several of these events, we partner with other Dutch cultural institutions, such as the International Film Festival Rotterdam, the Kunsthal Museum and the VPRO broadcasting corporation.
Last year, the festival occurred just a couple weeks after I moved to the Netherlands, and months before I had any idea I could actually work there. I went to Rotterdam to see Julian Talamantez Brolaski, a friend and classmate from Berkeley, perform and to check out how Samuel Vriezen had set Peter Gizzi's "Vincent, Homesick for the Land of Pictures" to music. I also found myself mistakenly sitting in on Alfred Schaffer's master class in Dutch, of which I understood maybe 20 percent. But still I'm glad, because later my Dutch got better, and his most recent collection, Mens Dier Ding (Man Animal Thing), is the first book that made me specifically examine the power of tone in poetry, and the possibilities that a dexterous manipulation of it can provide.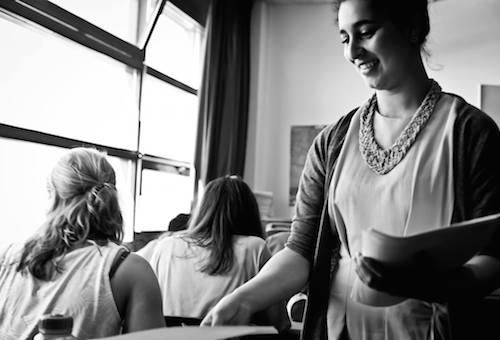 Poetry International's educational program, Louder Than A Bomb (LTAB), is not as high profile as the festival and website, but it's among the most important and interesting things we do. Or rather, it's important and interesting because of the teachers and students who do it. The program is inspired by the 2010 documentary Louder Than a Bomb, which chronicles how four teams of Chicago-area high school students prepare for the world's largest youth poetry slam competition.
Every fall, the program kicks off with a screening of the film at a Rotterdam theater, and then proceeds with months of small-group poetry-writing and performance workshops. These workshops culminate in a slam finale that takes place at the Poetry International Festival. This year, approximately 800 students from various Rotterdam-area high schools enrolled in the program, doubling the number from last year.
Does this sound like a press release? I know it does, and I wish I could write a press release with so much enthusiasm. This program is amazing. This year's finale at the festival was more emotional, contentious and dynamic than, say, a New Yorker-profiled poet reading his own profile of New York. And the teachers—Miguel Santos, Dean Bowen, Shida Boukhizou, Elten Kiene, Gino van Weenen, Khalid Amakran and Andrea van Herk—are a group of emerging Dutch poets whose engagement with poetry as a social art and practice inspire me, make me want to push my own work to another level of experiment and innovation.
Here, I want to introduce three of them to you—and I wish I could do so with English translations of their writing. But that's something I look forward to sharing in the future.
In addition to being a teacher and poet, Dean Bowen is a storyteller, singer and "psychonaut." He lives and works in The Hague.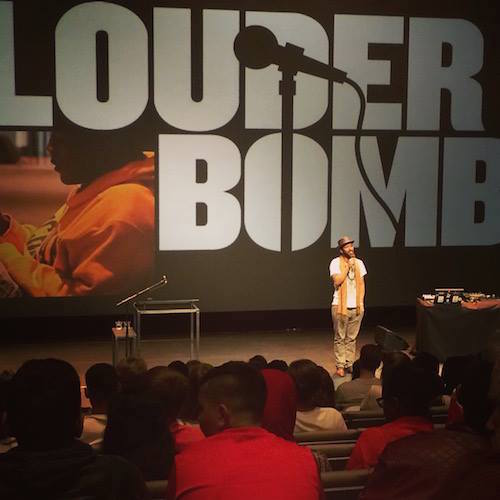 How do you situate your poetry and your voice within Dutch poetry? For example, who are your poetic influences or poetic allies? What kind of change/disruption/newness do you hope your poetry will bring? How do you navigate between the slam scene and the more traditional publishing world?
I find it difficult to pinpoint where my poetry fits in the Dutch poetic landscape, as I have work in just a few publications and, although I try to read as much as possible, I never really compare myself to writers beyond my own circle of befriended poets, a few of whom I have the honor of collaborating with in the LTAB program. My own poetic voice is aimed at the conjuring of spells, or to evoke an intuitive response to the work, more so than creating a concrete understanding of what it is I have written or am performing.
This mirrors my writing process, in that I seldom feel like I am the active component in the writing of my poetry. I have always explained it as me being sensitive to the frequency of a particular poem that already lingers in the ether. I hope that that element of mystery, that sense of imagery just beyond the reach of our fingertips, will be my contribution to the Dutch poetic esthetic.
I believe that the new poetic practice is one where the poet has to be aware of his or her role as not only a writer, but also as a performer. This is why I have a lot of appreciation for the slam scene and for spoken word artists. These scenes have embraced the sensibilities of today, where a younger generation is more than willing to engage words again, but they would rather attend a slam or spoken word event than buy a book of poetry. Although I think it is important to read poetry, I believe that as a poet it is also my responsibility to engage these audiences in these particular settings.
I personally do make a distinction between the spoken word artist and the poet but they inhabit different rooms in the house that is poetry. Having an extensive history in performing, as a poet, musician, and more recently as an actor, I am very much aware of what the effect can be of body on a stage, in front of an audience, and I am of the opinion that this is a development we have to take seriously.
Do you think poetry can make a social/societal impact? How does this influence how you teach poetry to students?
I do think poetry has a social/societal impact, but it doesn't necessarily inform any aspect of how I teach poetry. First of all, most kids we teach have little to no experience in the reading or writing of poetry. So my main focus in getting them to write something is creating a safe space where they are not afraid to make a mistake. Where they feel valued for whatever it is they want to create, and facilitating them in any way possible. I don't put too big an emphasis on the effects of their writing on anybody else than themselves.
One of the greatest compliments I have ever received was being told by a student, a year after I had done a workshop, that they kept writing from that point on. Well, if that is all that I have accomplished, I can be content. A true legacy is not what one has done, but what one has inspired others to do.
How has teaching LTAB influenced your poetry?
Teaching the LTAB program has influenced my poetry indirectly, in that it has forced me to analyze what I deem important in regard to my own poetry and what my personal poetic philosophy is about. Both are informed by a wide variety of influences, but teaching has been an important catalyst in developing these reflections. It has enabled me to define what I believe to be important to convey to these kids, flawed as it probably is, and it does bring forth how ever-changing my own beliefs and opinions are in regard to this beautiful craft.
Could you introduce, or explain a bit about, a particular poem or performance to us?
Well, a friend and I occasionally have these "Let's create something" moments. He's a filmmaker, and we just started making an odd video of me performing a poem. We had already made two together: one was for the Museumnacht (Museum Night) in The Hague, for the Literature Museum, and another was just us having fun with the camera. We recently did another one, of one of my favorite poems to perform. It's called "Zand/Rook," which translates to "Sand/Smoke." It's a reflection on coming of age.
Shida Boukhizou was born in Rif, Tazaghin, in Morocco, and moved to The Hague when she was two. In addition to poetry, Shida has written, directed and performed in several plays, including 2014's De Vijfde Dichter (The Fifth Poet).  
How do you situate your poetry and your voice within Dutch poetry?
I situate my poetry as a translation, as how I see life and beyond life.
I guess you can say I write my poetry from a spiritual perspective.
I write from my intuition.
I never had a big publication or my own book. I perform my poetry a lot for different events and people, and teach high school kids how to write poetry.
The funny thing is, I never pursued being published; for me, it's a way of living.
At this point, now that I am a bit older, I would love to have my own book. I realize that it can give me a bigger audience, and so that people that hear my performances and ask where they can read me, can have something in their hands.
Some poems are perfect to read, and some poems are perfect for performance.
As a theater actress, I find that every poem can be performed, as long as you understand what you want to say with your poetry.
But, also in my experience, it depends on your audience if they really will get what you are trying to say.
With my poetry, I try to give people a mirror of the world, and our inner lives, without being arrogant or judgmental.
I believe we all are the same in feeling and emotion.
But words can translate differences, and sometimes what you know, the other does not know it yet.
And the other way around.
They say that belief and hope come with words.
These are the two most important things for me. So, with my voice and words, I try to give people some hope and belief.
Do you think poetry can make a social/societal impact? How does this influence how you teach poetry to students?
I started writing poetry as a 15-year-old high school girl.
My writing helped me to communicate better, and to give my inner self, while growing up, a voice.
Being a shy girl, writing poetry was exhilarating. It gave me a chance to look differently to the world, and to observe everything around me. It helped me overcome puberty.
It still helps me.
I teach remembering this period of time and how I started writing.
How has teaching LTAB influenced your poetry?
It allowed me to be kinder to myself during the writing process. It made me realize that I have to be as kind to myself as I am to the students, so I can grow in my poetry/writing. And grow more as a person, and into the kind of teacher I want to be.
Could you introduce, or explain a bit about, a particular poem or performance to us?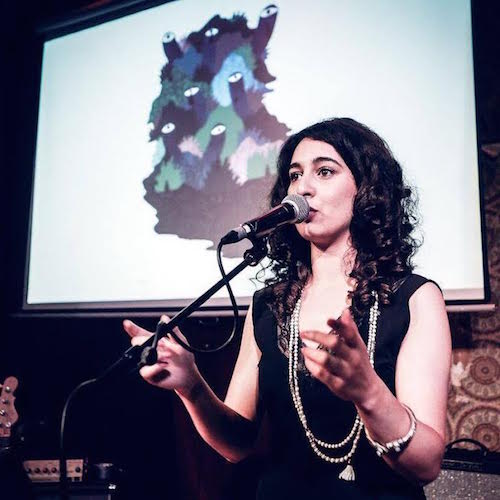 The poem I'm performing in the picture
is called "Zwarte Nacht," meaning "Black Night."
It is a poem about solitude and finding the positive in the negative.
I think if everyone could do this (which I think is one of the hardest things to do),
we would all be kinder to each other and ourselves.
It is called "Black Night"
because it is in the night that we, or I, find a comforting way of being in solitude and of recovering the daily things that happened.
At the end of a day, we have lived so many different lives: in the spaces we shared with other people, with everything exchanging.
It is a rollercoaster and we,
I tend to say "we," have to be aware of this.
Elten Kiene (who also performs under the name Ella) is a member of the hip hop group Brandwerk and the co-founder of Woorden Worden Zinnen (Words Become Sentences), a podium for "word-art in the broadest sense of the word."
How do you situate your poetry and your voice within Dutch poetry?
My contribution to the poetry/spoken word landscape, if I may say so, mostly comes from the fact that my colleague Wesley Loos and I have created our own platform. We organize "Woorden Worden Zinnen," and thus offer a podium for both beginning and established word artists, and we build bridges between different levels/groups. Young and old, black and white. We make it extremely accessible, so that people can get acquainted with word art. I am its face. Through giving workshops, I try to encourage young writers and help them remember the fact that they have a voice, and that writing is something powerful. It has brought me to where I am. You get what you give, and that's what I try to tell people. These are mainly people who inspire me and not, per se, writers.
Do you think poetry can make a social/societal impact? How does this influence how you teach poetry to students?
I'm sure that poetry has an impact on society. Writing connects and aids self-reflection. It makes you think. If you ask the right questions and ask young people to put their answers in writing. To ask them in a nice manner to think, to express their own thoughts, and to give these thoughts a voice by writing them down. That can change people. At the very least, I believe that self-reflection is the key to change and to a better society.
How has teaching LTAB influenced your poetry?
I get energy from giving lessons. I feel it's my duty to give, and I get energy in return. This keeps me sharp. I don't know if teaching has had a direct influence on my writing's character. But it inspires, and without inspiration, writing becomes immediately difficult. I become inspired and inspire. That's how I keep my circle round.
Could you introduce, or explain a bit about, a particular poem or performance to us?
I wrote a poem in 2012 called, "hersenspinsels over gisteren, vandaag en morgen" (figments of yesterday, today and tomorrow). To me, it is still relevant today. The piece feels timeless. It's about accepting my path and route. Where I've come from has made me what I am today and gives me a focus for tomorrow. Something like that.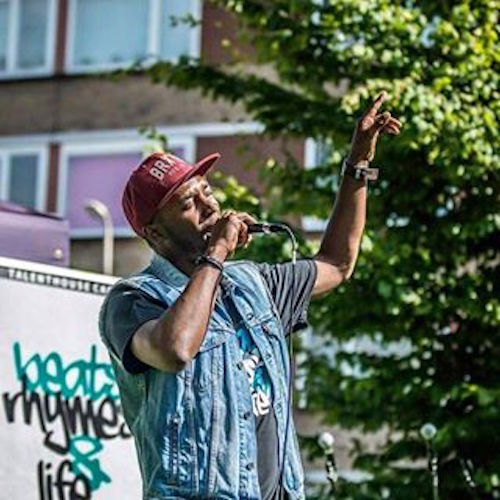 Mia You was born in Seoul, South Korea, grew up in Northern California, and now lives in Utrecht, The Netherlands. Her first full-length collection is I, Too, Dislike It (1913 Press, 2016), which Rachel Levitsky calls, "a companion, an aria to bodily discomfort and impossibility." Lisa Robertson writes in The Brooklyn Rail,...