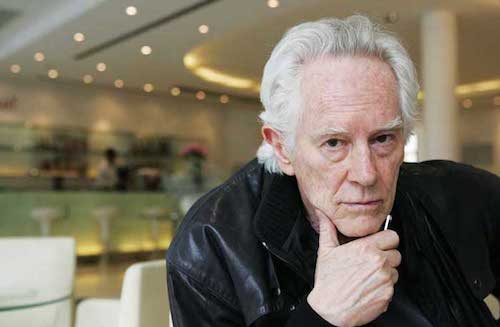 San Francisco Chronicle reports that Smith Andersen Editions (Palo Alto) is exhibiting new works by Amy Evans McClure, with words by Michael McClure. It's the couple's first collaboration. SF Chron's Sam Whiting joined the McClures at an event celebrating the new exhibit on November 7. Check out the McClures's show at Smith Andersen: it's on view until November 25. More:
In the 60 years since the famed Six Gallery reading that introduced the Beat poets, Michael McClure has read his words in any number of forms and settings.

But he'd never done anything close to what he was doing Saturday, Nov. 7, which was to walk around a room reading his words as they hung on a wall. McClure, 83, had put poetry to 24 abstract horse monoprints by his wife, Amy Evans McClure, 60. The words and the image merge on the same print. But McClure's words on paper don't have the impact of McClure's words on paper as read aloud by McClure.

"Ripple. Grullo. Thicket," he reads from one painting in a voice that is as commanding as Richard Burton reading Shakespeare. "Houyhnhnm," he neighs, as proof that he is now also fluent in the horse dialect.

"You have to understand that Michael is the most amazing trickster of a man," says Jack Foley, who came from Oakland down to Palo Alto for the event. "He's so connected to words and to language that he can pull off something like this and make it quite beautiful."

The show, titled "Sculpture & Monotypes by Amy Evans McClure, Words by Michael McClure," is at Smith Andersen Editions through Nov. 25, but McClure was only there to open the show on Saturday. He has no other Bay Area readings scheduled, and if this turns out to be his last, it will have been the right setting. Smith Andersen is in a converted auto garage, and so was his first public reading.

That was on Oct. 7, 1955. McClure was 22 and fresh out of San Francisco State, living at Scott and Haight streets and coming over the hill to Six Gallery, which had sculptures hanging from the rafters and a plank stage on the floor, on Fillmore at Greenwich.

McClure had met Allen Ginsberg at a party, where they bonded over mutual admiration for William Blake. McClure and Ginsberg used to meet for coffee in North Beach. "He'd read me Jack Kerouac's letters, which were fascinating to me." [...]
Learn more at San Francisco Chronicle.