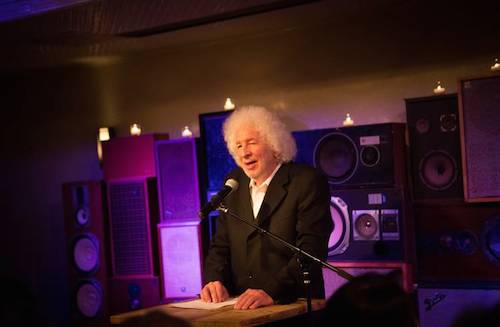 The Center for Fiction bestowed upon Ecco Founding Editor, Daniel Halpern, the Maxwell E. Perkins Award for Distinguished Achievement in the Field of Fiction. As a student Halpern was slow to warm to literature, but he went on to become one of the most accomplished and revered editors in the field of fiction. At ArtsBeat, Alexandra Alter talks with him about "how writing poetry inspired him as an editor" and more:
On Tuesday night, Mr. Halpern will receive the Maxwell E. Perkins Award for Distinguished Achievement in the Field of Fiction from the Center for Fiction, in a ceremony that will be attended by some of his most prominent authors, including Anthony Bourdain, Charles Frazier, Russell Banks and Ms. Oates. Ms. Oates and Mr. Banks will serve as the masters of ceremony. The award, which is named for the famed editor of Ernest Hemingway and F. Scott Fitzgerald, is one of the few literary honors that goes to editors, publishers and agents in recognition of their behind-the-scenes influence on groundbreaking works of fiction.

In an interview, Mr. Halpern described how a chance meeting with Paul Bowles inspired him to move to Tangier, Morocco, and start a literary magazine, Antaeus, and how writing poetry has shaped him as an editor. Below is an edited transcript.

Q.
What made you want to found your own imprint?

A.
It started with a literary magazine. It was Paul Bowles who put up the money. I met Bowles at California State Northridge. I was invited to a party and I was asked to drive him home, and he told me about Tangier. I spent two years there. And he said, "Do you want to do this magazine?" I was trying to raise money for the magazine, and I ran into Drue Heinz, the wife of Jack Heinz (of Heinz Ketchup). She said, "I will back Antaeus if you will consider starting a small press called Ecco."

Q.
She chose the name?

A.
Yes, her favorite dog was called Ecco.

Q.
What sort of books were you looking for in the early days?

A.
We began by doing paperback reprinting. We would buy books for nothing. I paid $250 for "The Sheltering Sky" by Paul Bowles. We bought the paperback rights to Cormac McCarthy, and he really caught on, there was a big audience for him in paperback. We started doing that, and we started doing poetry, because that's what we could afford. We never paid more than $3,000 for a book, for years. We did books that were not taken in other places. We did Tobias Wolff's first book of short stories. The books that we were interested in, nobody else was interested in. Then the bigger houses started casting a wider net, and started offering advances of like $15,000, which we couldn't afford.
Continue at ArtsBeat.