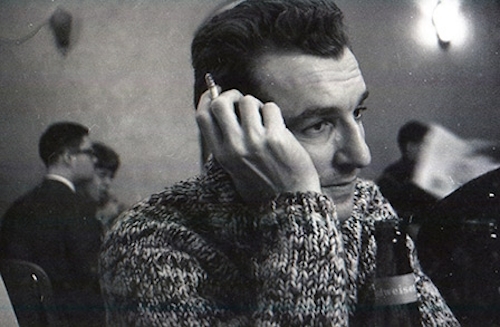 At Electric Lit, a review of both new volumes from John Wieners, Wave's Supplication: The Selected Poems of John Wieners, edited by Joshua Beckman, CAConrad, and Robert Dewhurst; and the City Lights publication, Stars Seen in Person: Selected Journals, edited by Michael Seth Stewart. "The coordinated appearance of the volumes should bring fresh—and long overdue—attention to Wieners, a kind of blank spot on the map that charts the course from the late Beats to the New York School," writes Justin Taylor.
In lieu of O'Hara's militant good cheer we encounter an astringent mysticism—less hermetic than Spicer's, though it owes something to him. They knew each other and battled many of the same demons. Spicer taught a class in San Francisco called "Poetry as Magic." That was also in '57. Wieners didn't take it, but I can't resist mentioning that both Robert Duncan and Jack Gilbert did. Wieners's poem "Hotel Blues" is an elegy for Spicer—who died in 1965, alcoholic, 40 years old—though I don't think the hotel in question there is the Wentley, and anyway you'll find two versions of it in the Journals, not the Poems.

Supplication is, and Stars Seen in Person is, an abundantly rewarding book, a treasure-house of occult desperation and wonder; a rage against life that somehow hungers for more life. Each book is this individually and the both of them are together.

Supplication, in classic Wave style, is a work of understated panache. The table of contents is ordered chronologically by date of publication of the original collections. (Within each book it tends to jump around, which you can see happening because Wieners habitually dated his poems, and those dates are preserved here.) There are no section headings or divisions within the book itself, however, so it's not necessarily clear which book you're reading, or when you've gone from one to the next. There is a bibliography and an index of titles and first lines, but no biographical essay or introduction. There are no footnotes. The editors invite you to forget about eating your poetry-spinach, forget the portent of a "selected poems" by a "neglected master," and just read the thing.

Burn a small fire. Fall in love.

Of course Wave's approach might not be so easy to love if not for the existence of Stars Seen In Person, the more traditional yin to its puckish yang...
Read more at Electric Lit.