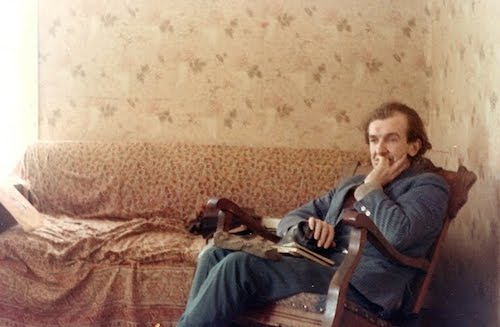 In "Divine Lines," Bookforum Editor Albert Mobilio draws readers's attention to two fresh volumes that cast new light on John Wieners's poetry. More:
At a time when the notion of a poetic career—with its requisite curriculum vitae, residencies, prize panels, and sabbaticals—has long been in ascendancy, it can seem almost quaint to recall that poverty or a sad demise was once a not-uncommon fate for a poet (think Keats, Rimbaud, Sylvia Plath, Dylan Thomas, Anne Sexton, Hart Crane). John Wieners met such an end in 2002, when he collapsed returning from a party in Beacon Hill, Boston. He was taken to Massachusetts General Hospital, where, lacking identification, he lay unconscious for days and then was removed from the respirator. Almost until the very end, his friends and family didn't know he was there. Wieners—the author of several influential books of poetry, published journals, and plays—had, at sixty-eight, achieved a distinctive record of poetic work, political activism (he was a key figure in Boston's gay-liberation movement in the early '70s), and critical regard. But decades of drug and alcohol abuse, along with mental-health problems (he was institutionalized several times), had taken a hard toll, and this figure of undoubted importance to postwar American poetry was living hand-to-mouth in a walk-up apartment when he almost died as an anonymous John Doe.

Certainly, Wieners's struggles with substances and manic behavior didn't pave a path to conventional success (tenure, prestigious awards), but the true impediment may have been his absolute fealty to poetry and a life of the mind that prized aesthetic experience over all else. Wieners was that rare poet who risked everything for the sake of his art. Just how high he placed the stakes is now made clear by the appearance of his earliest prose work, "The Untitled Journal of a Would-Be Poet," in a new omnibus edition of four previously unpublished journals gathered by editor Michael Seth Stewart under the title Stars Seen in Person. In January, 1955, not long after turning twenty-one and graduating from Boston College, Wieners began keeping what he hoped would be a daily record of his developing sensibility. From the first pages the reader can't help but be struck by the force of his enthusiasm for things literary ("I made the buying of that book a ritual as I nearly do with all the books I buy") and his elevated sense of poetic destiny ("God tells me always to write and yet above this he is great mindbreak [new word, good] for his demanding from me of things I cannot give him"). The perceptions and revelations that crowd the pages are rendered with a cinematic acuity that heightens the diarist's emotional intensity:

Tonight, I saw a beautiful grey-haired woman lying on a green bandana in the gutter of Tremont Street, waiting for an ambulance or death to carry her off to consolation. But the hope was there, another woman bent down as a song and fixed the bandana and seemed to stroke somehow the woman's pain.

Wieners's alertness to how metaphor might open the reader to the interior drama of the scene—the woman bends down "as a song" and strokes the pain—would soon be carried forward into his poetry. And, of course, this depiction of a life ebbing in the street among strangers also foreshadows the poet's own lonely end.
Learn more at Bookforum.