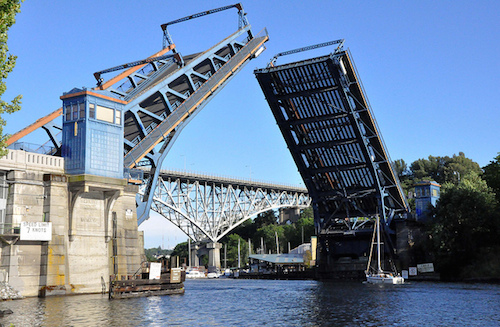 Poetry headline du jour for sure! It's true, Seattle is looking for a poet willing to live (part-time) in the Fremont Bridge and compose verse that "represent[s] or illuminate[s] some aspect of the bridge and the bridge's history, be it real or metaphorical." And the gig comes with a $10,000 stipend. More at Atlas Obscura:
Every poet needs a garret. If you're in the market, and you're a Seattleite, one just opened up in the northwest tower of the Fremont Bridge.

The city is hiring "an established writer or poet living within 100 miles of Seattle" to shack up in the bridge and write for a year, reports the Seattle Post-Intelligencer. Said writer will be given $10,000 and access to studio space in the tower.

The program is coordinated by the city's Office of Arts & Culture and sponsored by the Department of Transportation, which, the Seattle PI reminds us, "is required to put 1 percent of its new construction budget toward public art." [...]
In case you're wondering what the accommodations might be like, read on:
"Bridge hermit" is decidedly a part-time gig, as the space has no running water and isn't well-heated. (As of 2009, it also had no wi-fi–a lack which, for some productivity-focused poets, may make up for the others.) If you feel like you've come to it, applications are due February 16th, and can be found here.
Learn more at Atlas Obscura. And if you're a Seattle poet in search of a hermit gig, read more about the application process here.