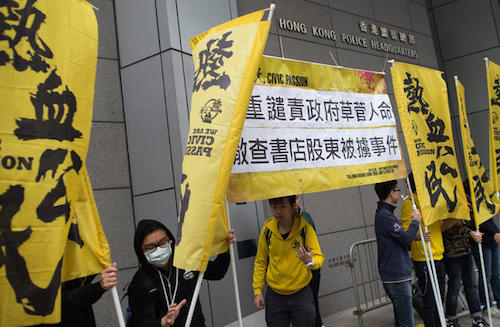 In Hong Kong, five booksellers have gone missing since October. The latest is Lee Bo. Bo co-owns a bookstore "associated with a publisher of books critical of the Chinese government" writes Jacket Copy. More:
Lee is the fifth bookseller from Causeway Bay Books, associated with the publisher Mighty Current, who have disappeared since October.

Lee's wife reported him missing to Hong Kong authorities last week, but she attempted to cancel the report on Monday after one of Lee's colleagues received a fax purportedly from the bookseller.

The BBC reports that the letter read in part: "I am very well. Everything is fine. And please do look after the bookstore." Lee's wife said the letter was in his handwriting.

Albert Ho, a Hong Kong politician who supports democracy, told CNN that he believes Lee was kidnapped. "It's a forced disappearance," he said. "All those who have disappeared are related to the Causeway Bay bookshop and this bookshop was famous, not only for the sale, but also for the publication and circulation of a series of sensitive books."

It's common for Hong Kong bookstores to sell books critical of the Chinese government, CNN reports, which are generally banned in mainland China.

CNN's Ivan Watson spoke with Paul Tang, the owner of People's Bookstore in Hong Kong, who says that half his inventory consists of books not allowed in China. Chinese travelers shop freely in Hong Kong bookstores for books they can't get on the mainland.
Learn more at Jacket Copy.