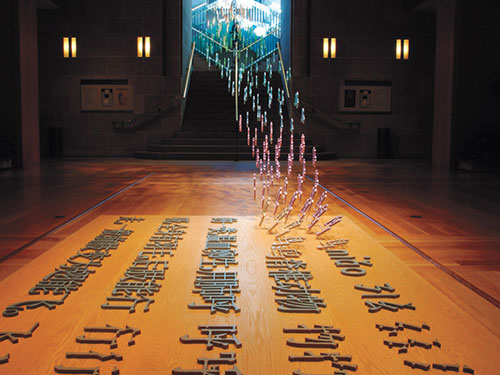 The Reading List is a feature of Poetry magazine's Editors' Blog. This month contributors to the January 2016 issue share some books that held their interest.
David Baker
So many books, new and old, to commend. I haven't been as excited about a first book of poetry for a long time as I am about Solmaz Sharif's forthcoming Look. I first encountered her work in 2012, at Bread Loaf, and am avid about her promise and her talent. Look will appear this summer from Graywolf. Its long centerpiece, "Personal Effects," is an essential poem, both as artwork and documentary, blending autobiography and multiple strands of narrative from the Iran-Iraq war, all of it witnessed and rearticulated through Sharif's applications of phrases from the Department of Defense dictionary of war terms. This feels like an important book, not just a good one.
Another forthcoming book I'm eager to have at last is Zach Savich's The Orchard Green and Every Color, coming this spring from Omnidawn.  It's as interior, spare, and hushed as Sharif's book is socially active and collectively voiced. Savich's new book, his fourth, is underwoven by his diagnosis and treatment for cancer. Though the subject is rarely evident, never named, its effects, traumatic and subtle by turns, are everywhere felt. It is eerie, authentic, and beautiful—to be so imperiled and yet to feel "the physical day awash with larkspur."
What else? I have been walking around with two books this week. Linda Gregerson's majestic new Prodigal is a model of artful making, a new-and-selected gathering of her most brilliant work, sinuous, social, and richly able to reach back for metaphysical conceits and phrases as effectively as to document the complexity of contemporary social and family life. And I've turned once more to a long-time favorite, Sandra McPherson's Edge Effect, now twenty years old, for its joyous, exacting, idiosyncratic image- and phrase-making.
Sarah Browning
At Split This Rock we just published a list of 2015 Books We Love—after four years of publishing a Recommended Books list, I gave up: there is so much socially engaged poetry of beauty and power being published today. No way I can keep up. So I asked some folks in my extended circle to give me names of books they loved that came out in 2015 but that didn't get the attention their champions thought they deserve. You can read the list on Blog This Rock here.
One that I contributed is Lighting the Shadow by Rachel Eliza Griffiths. I could live forever in each poem in this astonishing book. Grief, the broken body and heart, the vulnerability of the Black body in America. But also the world's joy and surprise and love.
David Ebenbach read with Eliza in the series I cohost, Sunday Kind of Love, so I bought their books at the same time and am reading them contrapuntally. David's We Were the People Who Moved won Tebot Bach's prize this year. It's funny and tender and maps our country and the ways that place works itself into our bones—the gas stations and fire escapes and basketballs.
I am loving D. Gilson's essays, I Will Say This Exactly One Time, from the great Sibling Rivalry Press. A compulsively readable mash-up of pop culture, theory, and poetry. I don't read theory at all and I hardly even read prose about poetry, so I was thrilled to like I Will Say This so much.
Two other remarkable books I've been reading all fall and winter are Life in a Box Is a Pretty Life by Dawn Lundy Martin and Sand Opera by Philip Metres. I keep saying it, people: We're living in a golden age of American poetry!
I recently received and have just begun reading Martín Espada's Vivas to Those Who Have Failed, due out this month from Norton. Powerful and moving elegies, celebrations, reminders that, as Dr. King told us, "The arc of the moral universe is long, but it bends toward justice." Just in time to restore hope for the new year.
Jan Beatty
I'm always looking for poems that will change my mind, make me forget where I am. Looking for bravery and new edges of feeling, I love Iconoscope, New and Selected Poems, by Peter Oresick. The working-class anthem, "The Story of Glass," affects me with every reading. The new poems, "Under the Carpathians," transport the reader to ancestral towns of Ruthenia, forging a sense of magical details as the book begins: "Small-ribbed beings, the lake of bird souls, a lightning strike." These poems take flight/go inward simultaneously, while being grounded in space and time. I'm not sure how Oresick does this, but it's an amazing book.
Diane Glancy's new book, Report to the Department of the Interior, is part of the Mary Burritt Christiansen Series, which focuses on the West and the Border as metaphor. I love the bravery of this book, structured as a series of reports to chronicle the history of Indian boarding schools set up by white colonizers. The poems breathe heavy with Glancy's evocative mix of history and original image. "Spotted Tail's Daughter [1848-1866]" begins: "I look down on the prairie/the way satellites track movement on the land." Glancy rescripts history here, bringing the truth of grief and oppression to light.
Immigrant Model by Mihaela Moscaliuc brings the vitality of risk to the foreground with lyrical poems thick with sound. Like Oresick and Glancy, Moscaliuc writes place and memory, but this time sharp with the knife blade of survival in Romania under the rule of dictators Elena and Nicolae Ceausescu. In "Memoir": "The story of a people is the story of their denials." I admire the courage of this book, and how layered meanings rise up and deepen these unruly poems.
Kathy Engel
For months I've been swooping into Jack Gilbert's Collected Poems. The plain-seeming language, emotionally searing, so perfectly crafted, knock me out. From "The Spirit and the Soul": 
It should have been the family that lasted.
Should have been my sister and my peasant mother.
But it was not. They were the affection,
not the journey.
And from "In Perugino We Have Sometimes Seen Our Country":
Those perfect small trees of loneliness,
dark with my longing against the light.
The lines feel as if they've grown out of the earth, they are the trees of loneliness, coming out of pure necessity. When I need grounding, dusting off of mask or embellishment, to return to the core of emotional truth, I turn to these poems.
I had the great fortune to hear the amazing activist, scientist/environmentalist Vandana Shiva speak recently. I was blown away by the way her language about the natural world mirrored the challenges of the social structures humans have created, that are tearing us apart, day by day. I'm reading her book Earth Democracy. More and more I'm looking for information on the natural world, the nonhuman animals, for insight and hope, not relying fully on human invention for the possibility of more viable, more equitable life.
I carried around Claudia Rankine's Citizen for months, gave it to my colleagues and students. It's one of the most brilliant, intimate, precisely conjured, honest, inescapable poetic maps of this country I've read.
I find Mark Doty's Deep Lane gorgeous, agonizing. A great song of pain, beauty and survival—his long lines, movements from urban to rural, inside the body and on the street.
Lilace Mellin Guignard
Over break I am re-reading Ida Stewart's debut book of poems, Gloss, an exciting and place-based work of ecojustice poetry that plays with form and language in interesting yet accessible ways. I can't wait to share this with my advanced poetry students this spring. For several months I have been slowly digesting Gerald Stern's In Beauty Bright, the language of which lifts me and urges me to pull over and compose poems in my car in the rain. On the prose side, Seamus McGraw's Betting the Farm on a Drought: Stories from the Front Lines of Climate Change is one of the best, unexpectedly uplifting reads of my 2015.
Tiffany Higgins
I've been reading the World Wildlife Fund's April 2015 scientific report, "State of the Amazon: Freshwater Connectivity and Ecosystem Health." First of all, it's amazing to learn that, in rivers with flood pulses that raise water levels, Amazonian fish don't stay in the river channel. When rainfall and seasonal pulses flood adjacent riparian areas, fish roam into these areas, avoiding predators, seeking resources unavailable in the river, including plant detritus and seeds in nutrient-rich water. They also find nesting and egg-laying areas. Scientists call this "lateral connectivity." In addition to fish that boost survival rates as they migrate to floodplain resources, other creatures depend on floodplains: pink-nosed and other dolphins, giant turtles, caimans, and otters. Terrestrial animals use riparian areas as migration corridors, including jaguars, tapirs, and peccaries.
However, due to an unprecedented rise in development in the Amazon in the last 5-10 years—primarily dam construction, and also mining, cattle ranching, and agriculture—these freshwater ecosystems are being altered, and with them, the aquatic animals' abilities to travel between rivers and surrounding riparian areas. In the Upper Xingu River Basin (Brazil) alone, there are 10,000 small dams, 1 every 4 miles. The created water reservoirs change water quality—temperature and sediment level upstream and downstream, and alter water discharge levels (which correlates with decreased rainfall). Where river sediment grains are larger, as the giant Amazon river turtle and yellow-spotted side-neck turtle nest, their eggs' survival rates have decreased.
In Brazil's share of the Amazon Basin alone, there are 138 operational, 16 under-construction, and 221 planned large dams—each of which involves removing from their river land tens of thousands of indigenous and traditional river peoples. In June 2016 I will observe this up close.
As for poetry, I recently finished reading Multitudinous Heart: Selected Poems by Carlos Drummond de Andrade, translated by Richard Zenith.
Ailish Hopper
The books I'm recommending reflect the subjects I'm exploring in my own poems and essays, and are all about this Moment we're in, one that is palpable in Baltimore, where I live, as it was in DC, where I grew up. They wander through cold realities, breaking silences about what's here, and they record and imagine potentials also here: the cities inside a question, the warmth of unimaginable doorways.
A couple of new books of poetry that must be raised up in this regard include Fady Joudah's Textu, which uses the flicker-sized form of the text message in devastating counterpoint to empire's unimaginable fake-Scale; Kyle Dargan's Honest Engine, lyrics that jump the note in the body, of our duplicitous, protean, U.S. national identity; Bettina Judd's Patient., which hums with self-knowledge even as it documents in original ways the history of medical experimentation on black women's bodies; and Reginald Dwayne Betts's Bastards of the Reagan Era, a fiery and loving elegy for a DC (and world) shaped by forces that don't even pretend to give a shit.
Of course, those are the same forces that, this year, have received so many protests in public squares and college campuses. And two recent books from Baltimore both call in the disguises that this kind of Power uses—and that means us, literary world—to keep us supporting it, even against our own and others' best interests: Hopkins professor Lester Spence's newest, Knocking the Hustle: Against the Neoliberal Turn in Black Politics, and The Black Book: Reflections from the Baltimore Grassroots, by Dayvon Love and Lawrence Grandpre, two founders of Baltimore youth thinktank, Leaders of the Beautiful Struggle. Very different projects from very different scholars, both informed by deep commitment to grassroots-level power, and, almost more importantly, grassroots-level knowledge.
Last, there are a few other recent books of prose that look at and rearrange this world, following the yellow-brick road off the Reality-beaten path in important ways: Randall Horton's Hook, a memoir of his time dealing, being undone, doing time, and ultimately discovering literature because of being in the game, which is almost an experimental film in prose. Jason Harris's new novel, Fly, Girl, what he calls "ground level futurism," imagines a teenager here in Baltimore who is trying to deal with life with a pair of wings. And adrienne maree brown and Walidah Imarisha's anthology, Octavia's Brood: Science Fiction Stories from Social Justice Movements, invited writers and activists to work in the tradition of Octavia Butler, using speculative fiction to re-see the political problems and possibilities inside of which all of our lives unfold.
Fady Joudah
I have recently completed two Sven Lindqvist books which are necessary reading: A History of Bombing and the brilliant Exterminate All the Brutes. His is a comparative eye as he works through his material. In Exterminate All the Brutes, that famous Captain Kurtz quote in Joseph Conrad's Heart of Darkness, Lindqvist traces the genealogy of the famous novel itself along the genealogy of modern mass violence through a European prism. I don't think the minds of enough poets in America are speckled with the bright dust of such books as they should be. It's sad that such books are almost never on a curriculum, to expand the horizon. That and Tonya Foster's stunning poetry collection, Swarm of Bees in High Court; a pleasant surprise in the art of sequence and the short poem, but also a tender tinder whose generosity is to keep the heart and mind warm, fully alive, with slow fire.
Joan Kane
I'm a faculty mentor with the low-residency MFA program in creative writing at the Institute of American Indian Arts. Students choose eight books to read and discuss closely each semester. Our program is unique in that at least a quarter of our movies, texts, et cetera, across all genres, are created by indigenous people. So it's been a pleasure to read (and reread, in many cases) books like Orlando White's LETTERRS, Jennifer Foerster's Leaving Tulsa, Sherwin Bitsui's Flood Song., Margaret Noodin's Weweni, James Thomas Stevens's Combing the Snakes from His Hair, Louise Erdrich's Original Fire, Joy Harjo's Conflict Resolution for Holy Beings, James Welch's Riding the Earthboy 20, Debra Earling's Perma Red, Irvin Morris's From the Glittering World, and Linda Hogan's Dwellings. Of course, our students read widely, so other recent books have included Luis Alberto Urrea's Tijuana Book of the Dead, Valerie Mejer's Rain of the Future, Frank X. Walker's Buffalo Dance, and W.S. Merwin's Lice.
We have a brief break between the end of the fall semester and the winter residency, so I've been able to turn back to Langdon Hammer's James Merrill: Life and Art. Unnamed Press has a great subscription series, and I've been making my way through much of their catalog. Right now, that includes a collection of contemporary folktales/prose poems by the Estonian poet Kristiina Ehin: Walker on Water. Jedediah Purdy's After Nature (a bit of nerd trivia: a conversation with Jed is one of my most fondly recollected memories of the first "party" I attended in college). Finally, the book I'm most grateful for of late is Jean Valentine's stunning Shirt in Heaven.
Yusef Komunyakaa
C.K. Williams and Christopher Gilbert were my friends, two poets I greatly admire, and I miss them. Reading their last collections side by side, their likenesses and contrasts coalesce. C.K.'s Selected Later Poems in breadth and depth is uniquely singular, a muscular tenderness that's visionary and heroic. The familiar grows surreal and challenging, always tugging us to the cusp of an enormous possibility populated with illuminated shadows. And, reading the book's final poem, "Dear Reader," we may even doubt if we're standing on our own two feet: "so as long as you're out there nose in a book at your end of the page I'll keep scribbling at mine." The mystery and levity of closure feel like a moment of realized ascension. The poet Ed Pavlic, a friend, called me few years ago and said, "Did you know Chris Gilbert?" I said, "Yes," and he continued, saying, "Well, I just found poems of his in the archive at Butler University." Yes, the daily twists and turns in the labyrinth add up, but it now seems elliptical as the voices of Williams and Gilbert dovetail tonally in my psyche. Most likely it is because of the concerns of these two American voices—black and white—arrive at a converging juncture psychologically and spiritually. Or, perhaps both are tutored by the same wellspring. Gilbert's Turning Into Dwelling spins gutstring and heartstring until there's no voice like his: "No neighbor's yard is a boundary./Don't you got this earth in you?" In On Whitman, C.K. writes this about Baudelaire and Whitman: "Both were fascinated by, and wanted in their work and their vision to redeem, the real existence of the outcast and despised, the neglected and the damned…" Indeed, C.K. Williams could be speaking about himself as well as Christopher Gilbert—two poets plumbing American democracy.
Laren McClung
Vietnamese poet Nguyen Phan Que Mai's first collection in English, The Secret of Hoa Sen, translated by the poet and Vietnam War veteran Bruce Weigl, tells a woman's story of her homeland—a place of immense beauty and generational trauma.
But this poet's song is always both praise and elegy, gratitude and longing, and the landscape—whether earth or sea—has been deeply internalized. In this collection, "earthworms" and "embryo" live side by side—"heart" and "soil." In "The Poem I Can't Yet Name" she writes a lyrical lullaby for her grandmother, who died in the Vietnamese famine of 1945. In a moment of gratitude, the poet is called into the haunting image of her grandmother at work in the field:
lifting the bowl of rice in my hand, I count every seed,
each one glistening with the sweat of my ancestors,
their backs bent in the rice fields,
the fragrance of my grandmother's lullaby alive on each one.
Again the natural world and the human world converge, as the grains of rice become a portal to the internal world where the ancestors persist.
This poet, in her earthy tenderness and vivid imagery, conveys the experience of women who work the earth with their hands, and who know the deep emotional suffering of war: pregnant women who survive bombings, or women who call out for their dead children or husbands. Through the rendering of these lyrical narratives and through a careful reconstruction of her own lineage, Nguyen Phan Que Mai creates a portrait of woman that is both fractured and resilient. Perhaps through her unrelenting lullabies she finally sings the ancestors to sleep.
Jane Mead
A couple of weeks ago I reread Lorca's play Blood Wedding—and I start by mentioning it because a trace of its haunting world still lingers in my mind. I love the way song/poetry takes an already otherworldly dimension into more complex folds. I'm not sure I'd ever want to see it performed; it creates such a windswept grandeur of mystery as read, and all around the simplest of plots.
And I've been reading Maggie Nelson's Bluets, a beautiful exploration of obsession, an accomplished weaving of inner and outer, and a pitch-perfect set of (prose) poems. (Oh, I just noticed it says "essays/literature" on the back. You get the picture.) Anyway, she's so culturally astute, so learned, so funny, so heartbreaking: "Children whose vision has been damaged have been known to smash their fingers into their eyes to recreate color sensations that have been lost to them. (That's the spirit!)"
I don't read a lot of history, but was completely taken with Modris Eksteins's Rites of Spring, which is a hugely knowledgeable and, I believe, original look at the First and Second World Wars. From the preface: "Our century is one in which life and art have blended"; from a late chapter: "T.S. Eliot had an answer for the problem of spring. He was from Saint Louis…." His (Eksteins's) memoir/history/fiction Walking Since Daybreak is on my list. Actually it is already in one of several piles of books on my so-called coffee table which might or might not even BE there under all those piles. There are some books in those piles that I've been trying to get to for years.
I read very, very slowly and sometimes I take breaks and study photos of Sibley's birds or The Field Guide to California Lichens (Stephen Sharnoff), stuff like that. For me, there's an important counter-balance provided by having images of the natural world swirling around in one's head along with the beauty of an idea, or passage of language, etc. It's still the interpreted world, but maybe it's the absence of language that's important. In any event, when I get all muddled up, or tired in my reading, I like to be reminded by these drawings and photographs not only of the mysterious gorgeousness of the world, but of the naturalists who go on honoring that world through their attentions.
Margaret Noodin
Sometimes a play is the right thing to read, guided along by dialogue and action. The play I just finished is When Jesus Met Nanapush from Alanis King's new book, Three Plays. Nanapush is the central figure in Anishinaabe teaching stories and his real-world encounters with the Only Begotten Son are both hilarious and touching as they try to find ways each of them could actually matter more to humanity.
I also read across generations. With my mother, who is three quarters of a century, I am reading the mystery The Nature of the Beast by Louise Penny, causing us to debate armed warfare, murder rates, missing children, and how exactly we might get to the little town of Three Pines for a plate of brie with Inspector Gamache. With my thirteen-year-old daughter I am reading The Uglies by Scott Westerfeld, which offers a view of conformity and post-apocalyptic survival. By coincidence, in both cases, we find ourselves thinking of ways the woods and the wild are viewed by civilization.
Which leads me to one last bit of ballast on the ship that is my reading table. Plants Have So Much to Give Us: Anishinaabe Botanical Teachings is a mixture of food and medicine and all that is good and good for us. With translations into Ojibwe by her daughter Wendy, and botanical illustrations by her daughter Annmarie, Mary Siisip Geniusz shares some of the wisdom of past generations we would all do well to remember. A mix of science and story, with recipes and remedies, the book chases you into the kitchen and onto the land to gather, preserve and encounter the roots and leaves we all too often overlook.
Stephen Derwent Partington
As a fan of poetry that attempts to do something, I've been enjoying a slow read through Choman Hardi's collection, Considering the Women, which at a time of mass migration into Europe (cruelly couched as a "migrant crisis") serves as a reminder of why refugees travel and the trials and joys that they face as cultures interact. Focusing specifically on the experience of women, the collection reminds us that the burdens of various forms of conflict are not predominantly borne by the men who begin them.
Someone recently recommended Rosie Shepperd's debut collection, The Man at the Corner Table, from the small Welsh publisher Seren. These paratactic poems chart various relationships through food, through eating… After reading each poem, I felt as if I'd enjoyed both a good meal and a window into the everyday moments of someone's interactions with others: lovers, parents… While I really enjoyed these poems, and would recommend them, I at times felt that the poet was struggling to avoid a certain snootiness of attitude, but there we are.
I've also been rereading, from here in Kenya, the poems of Marjorie Oludhe Macgoye, the poet and novelist who died in early December.  Her poetry is almost unknown outside East Africa, and her published verse all occurred during her early career, before she more visibly diverted into prose.  Some of her early pieces, such as "A Freedom Song" (also known as "Atieno Yo"), which charts the trials and ultimate death of an unpaid and underage "housegirl," have become iconic pieces here, known to generations of pupils. Marjorie's poetry is certainly worth tracking down and reading, offering as it does a culturally-astute "white window" into Kenya other than that presented by more irresponsible "Settler classics" such as Out of Africa.
Elise Paschen
I was absorbed this past year with Elena Ferrante's tetralogy, the Neapolitan Novels. She writes with such clarity and opacity while all the while assuming a pseudonym. The memoir-like tone of these novels creates a complex relationship between the author and the reader. In a Paris Review interview Ferrante states: "When one offers oneself to the public purely and simply through an act of writing—which is all that really counts—this anonymity turns into part of the story or the verse, part of the fiction."
Another book I recently read, Colm Toibin's Nora Webster, straddles the line between fiction and autobiography. The title character was modeled after Toibin's mother and the older son after himself. I also was intrigued to discover that a scene in the first chapter of Nora Webster inspired his novel, Brooklyn.
Rosanna Warren creates a fictitious character that she explores in a sequence of persona poems, "From the Notebooks of Anne Verveine." She extends these poems across two of her books, Departure and then in her most recent collection, Ghost in a Red Hat. Anne Verveine is an imaginary contemporary French poet whose work Warren has translated. Her poem, "From the Notebooks of Anne Verveine, VII," is a favorite of mine.
Paul Muldoon's One Thousand Things Worth Knowing is a top pick poetry book from 2015. His playfulness and invention are in full force. I was intrigued with the way he reprises subjects from earlier works and how the poem "Cuba (2)" resonates with his earlier poem, "Cuba."
Edward Hirsch's A Poet's Glossary is edging out the Princeton Encyclopedia of Poetry & Poetics on my bookshelf. Hirsch writes mini essays on poetic terms, etc. offering historic and contemporary references. Five stars!
Craig Santos Perez
During the fall of 2015, I taught a graduate course on ecopoetry, and I am teaching the same subject as an undergraduate course in the spring of 2016, so most of my current reading has been in this vein.
Ross Gay's Catalog of Unabashed Gratitude is a must-read for anyone interested in ecopoetry, gardens, and orchards. In a time of environmental devastation, I am grateful for the joyous resiliency of this work.
Barbara Jane Reyes's To Love as Aswang is a must-read for those interested in ecopoetry and global labor. This work takes an intense and haunting look at the abject experience of Filipina bodies in the monstrous traffic of various industries. Despite the violence, Reyes highlights moments of feminist empowerment and resistance against impossible odds.
Allison Adelle Hedge Coke's Streaming is a must-read for those interested in indigenous ecopoetry. This book is both about native loss and resurgence, capturing the songs of the deep earth and the endless sky, of migrating cranes and lifted topsoil.
Juliana Spahr's The Winter the Wolf Came is a must-read for those interested in ecopoetry, oil, and revolutionary love. Spahr's signature style takes us into the marches of Occupy Oakland, the global reverberations of the ongoing oil wars, and the personal life of an innovative, political poet.
Urayoan Noel's scholarly book, In Visible Movement: Nuyorican Poetry from the Sixties to Slam, is a literary history both sophisticated and accessible to a general poetry-loving audience. A must-read book for scholars interested in Puerto Rican, Latino/a, performance, and multicultural American poetry and poetics. Also, an excellent text for those examining the relation between ecopoetry, urbanism, and diaspora.
Vidyan Ravinthiran 
I've recently enjoyed Tara Bergin's This Is Yarrow, which risks unloveliness and kicks against the pricks. Also—purchased in a second-hand bookshop, or, more precisely, the "three pound bookshop" in Oxford—Christopher Reid's Katerina Brac. But I've spent most time reading and reviewing a range of non-fiction about Sri Lanka. The book I'd recommend here is Rohini Mohan's The Seasons of Trouble, which describes the civil war without bias and with deep informed sympathy for its victims. She begins with an allusion to the first sentence of Kafka's The Trial, and goes on from there.
I spend Christmas each year with my parents in Leeds—where they moved, from Sri Lanka, almost forty years ago. While here I leaf through old tomes, those I've never taken away with me to where I now live, for one reason or another or no reason at all. Duplicates; student purchases, disfigured by cringeworthy annotations; big unportable hardbacks. A couple of days ago, I picked up Thom Gunn's Collected, allured perhaps by the old-style shiny (wipe-clean?!) Faber cover. Flipping from back to front and back again, switching between the free way and the formal, will I ever know which poems I like best?
John Shoptaw
One book I've been looking into recently isn't quite a book. After the Civil War, Emily Dickinson stopped binding her poems into booklets called fascicles and began penciling some of them on unfolded and sectioned envelopes. These texts have been gathered together by Marta Werner and Jen Bervin in Gorgeous Nothings, a handsome volume equipped with life-sized color facsimiles and labor-saving transcriptions. The editors call these writings Dickinson's "envelope poems," experimental texts that soar "beyond the forty bound fascicles . . . into a freer air," abandoning her conventional hymn forms for the quirky visual format of the envelope itself. Let's see:
                The way
Hope   builds     his
House
It      is     not     with     a     sill –
Nor       Rafter –     +has     that
Edifice                  mars - knows
But         only               Pinnacle –
_____   ______   ______
Dickinson is clearly having fun with her new canvas: the envelope side with its peaked seal does look like a house (Amherst College Digital Collection) with the penciled lines more or less filling the gabled flap. But the edifice is unsound; there are gaps after "House" and "Edifice" ("mars –" and "knows" are alternates for "+has"). Why? Because Dickinson composed this poem in short meter (3a3b4a3b), and the rhyming "House" and "Edifice" end their respective lines. That's why "It" and "But" are capitalized (they start new lines) and why there is a broken line below (marking the hymn quatrain interval, a sound barrier). Poems on envelopes? Yep! Envelope poems? Nope! Nice to look at, but "It's finer – Own the Ear –" So I'm hoping for April, and for Cristanne Miller's edition of Dickinson's Poems: As She Preserved Them, which preserves not just the fascicle groupings but the musical forms. Remarkable that they've never before been collected, arranged, and printed as Dickinson herself intended. But high time.
Truth Thomas
At the dawn of every New Year, I am drawn to the great unfinished prose poem that is the United States Constitution.  It well reflects the ugliness and beauty of American history. Clearly illustrated in its lines are America's original sins against: Native Americans, "persons bound to service," and Africans bound to slavery (those considered only "three fifths of all other persons").  These historical sins—well-documented, but often denied—haunt us to this day. What is also illuminated in the content of the Constitution is America's attempt to revise itself in the face of its sins by way of redemptive amendments. To this extent, it will always be a draft in need of thoughtful, moral updating. However it's a great draft. Though imperfect, it is inspired, and frames our country in hope. I embrace that hope, just as Dr. King once did when he said that "...thirteen million black sons and daughters of our forefathers continue the fight for the translation of the 13th, 14th, and 15th amendments from writing on the printed page to an actuality."
Dr. King spoke those words on April 13, 1944, in his junior year at Atlanta's Booker T. Washington High School, for an oratorical contest sponsored by the black Elks—which he won. They are winning words. Indeed, in the twenty-first century, his words are as relevant as the "We the People" document itself. As racism, police domestic terrorism based on race, and xenophobia rage in our land, the Constitution reminds me of what America aspires to be—what it can be—an inclusive land that honors freedom and equality for all of its citizens. It also reminds me that America, in its current living translation, falls quite far from that mark, and that the ideal of freedom once penned by Jacob Shallus on parchment, remains one worth fighting for with every blessed American breath.