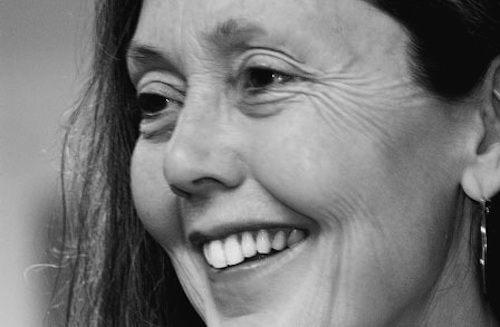 Bookforum reminds us that Anne Carson has turned to writing short stories, having recently published one in Harper's ("We've Only Just Begun") and another, this week, in the New Yorker ("1 = 1"). Never fear, purists. There's poetry here, too.
He took my glasses from me and polished first one then the other lens with a handkerchief taken from his breast pocket. A familiar Washington-clean-linen smell rose around me, mingling with my own vapors. There comes a moment when you realize that other people are not interchangeable. I looked for you! I said and suddenly wept. He wept, too. Later that night he gave me the poem he'd composed in the café at the Akropolis Museum. He said it was a found poem and I said, Good I'm a found person. Using a red pencil he had circled all the past participles in the Akropolis official museum guide.


Adapted
    Balanced
        Blown up
            Bombarded
                Climbed
            Contested
        Converted
    Demolished
Drilled
        Encroached on
            Excavated
              Fortified
                 Hunted
              Kept secret
            Not planned
        Occupied
Painted
    Partly planned
        Planned but never built
            Polluted
                Prohibited
            Refurbished
        Revered
      Rock-cut
Sketched
    Sold
        Sprung fully armed
            Tested superbly
            To
            be continued

I guess you can guess the title he gave it. It was I who alphabetized. The poem is framed now over our kitchen stove. But I digress.
Hey! Speaking of:
https://www.youtube.com/watch?v=GFQ66DBDP_8