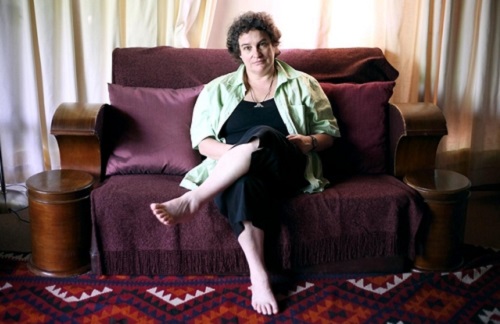 In the new issue of The White Review, an excellent interview with Marlene Van Niekerk, "the foremost Afrikaans writer of her generation." "She is a renowned poet, scholar, critic, and public intellectual, but is best known as a novelist, and especially for her two major works, Triomf (1994, English translation 2000) and Agaat (2004, translated as The Way of the Women in 2007)," writes Jan Steyn. A moment from their conversation, which covers "translation as mimetic rivalry or seduction" (as opposed to concepts around fidelity), her experience winning the Man Booker International, what young Afrikaan writers to look out for, and more, follows:
Q THE WHITE REVIEW — I like what you say about translation as mimetic rivalry or seduction, which chimes with some of my own experience as a translator. The relationship you describe is quite different to the tired tropes of 'fidelity' or 'conjugality' evoked by translation theorists, and I think it leads to different possibilities and impasses. I especially like that it foregrounds the desire for translation lying behind all this false chastity.

Since you mention self-translation, and without us wading too deeply into Freudian waters, I thought I would ask about the translations you've done of your own Afrikaans poetry into English. Reading a collection like Kaar (2013) – a volume that pushes the boundaries of Afrikaans, mining its history, recovering many of its long-lost treasure words, and really wallowing in the materiality of its singular sounds – I couldn't help but think of that old chestnut: Poetry is what resists translation. But then I saw some of your self-translations online, which certainly 'have a go' at the original in a very satisfying way. How different is self-translation into your second language than, say, translating Seamus Heaney into your mother tongue?

A MARLENE VAN NIEKERK — Heaney's poems are much more difficult to translate than my own, for the simple reason that they (Heaney's) are far better. Their construction is clear, tight, elegant and highly specific for each poem. They are especially challenging to translate because of the use Heaney makes of half-rhymes on the line end, because of the deliberate patterned spread of vowels and consonants, because of the economy of his formulations and because of the way in which he sets up and then frustrates the iambic meter, using syllable stacking or slacking for the effect of rubato (acceleration and retardation). And then of course there is his use of specific vocabularies of landscape and craft. Also difficult to copy in one's own language is something hard to pinpoint in the tone of his most memorable poems, a tender manly appreciation of 'the dearest freshness deep down things', something like 'over the bent world brooding with warm breast' but in an adorable male caressing register, something that one sometimes hears in young male bel canto singers, the heart lifting up… a sincere human capability of 'laudation' without any soppiness or twee-ness or high-flowing-ness or right-wing-ness that has apparently gone right out of fashion (and has probably never again been realised in the poetry of Afrikaans male poets since Leipoldt) but is for me always a joy to try and translate, almost as a meditative exercise. In translating my own poems, I sometimes take liberties and change things depending on what works out better. I just try to get the spirit and the texture of the thing. With Heaney there is always also the architecture to try and fathom – and then to scale. Impossible really, but slightly less difficult than Larkin. Prynne, of course, is another story. Can't do it.