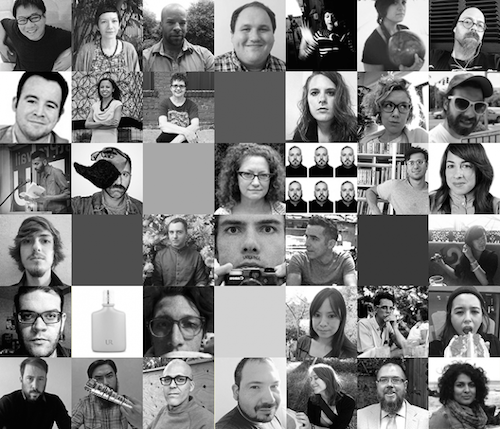 For the past year, Divya Victor has been working with 37 poets and critics on "Conceptual writing (plural and global) and other cultural productions," a documentation of the contours of Conceptual writing now. Writes Victor at Jacket2: "While polarity has often characterized these discourses, it is hard to pin down even contingent names for the resulting dichotomies: Conceptual Writing vs. Lyric Poetry? Conceptual Writing vs. Political Poetry? Conceptual Writing vs. Positivist Representation? Avant Garde Aesthetics vs. Activist Poetics? To speak in the idiom of Maestro Ilayaraaja, my muse while I edited this feature: How to name it? How to, indeed?"
The feature is separated into "clusters" for ease of reading: "Statements on process, poetics, and publishing;" "Case studies;" "Creative-critical responses;" and "Critique and commentary." Authored by a range of contributors, including Angelo V. Suárez, Kaplan Harris, Cathy Wagner, Kristen Gallagher, Sueyeun Juliette Lee, Feliz Lucia Molina, Anna Vitale, Holly Pester, Douglas Kearney, Michael Nardone, and many more, the "contributors are graduate students, independent and institutionally affiliated scholars, teachers, activists, freelance artists, established writers, and emerging voices," as Victor writes in her preface. More:
...This moment, like many significant moments in literary history, requires better questions: questions that do not demand denouncement, do not enforce allegiance to a certain aesthetic, do not automate categorical definitions; questions that challenge how writing is institutionalized, incorporated, or made hegemonic and complicit; questions that clarify and document the contemporary moment as it is, rather than answers that produce easily instrumentalized narratives.

So, instead of asking practitioners who they are (i.e. the questions of inquisition), I asked writers why and how they work (i.e. the questions of exposition). They told us, in return, how they lean and how they work through, beside, outside of, and within what we've come to understand as Conceptual writing. They told us how they have grown into, grown from, outgrown, or forborne its possibilities. To pluralize prepositional relations to the thing seemed like the best way to counter polarizing discourses that focus on select individuals in an otherwise highly diverse, striated, and divergent network of poetic practitioners.

If we can re-envision the premises, techniques, and theoretical presuppositions of Conceptual writing as provisional rather than monolithic — which is to say, if we can effectively observe that these are rooted in both contingency and subjective experience (rather than in universal principles of aesthetic norms) — then we will be able to challenge Conceptual writing's supposed orthodoxy, intervene into narratives of its dogmatism, and discuss its social effects....
Victor acknowledges that the feature may be in conversation with other editorial efforts, such as Caleb Beckwith and Tom Trudgeon's Evening Will Come: Conceptual Issue over at The Volta; she also duly notes that "we must constantly push beyond the regional peculiarities and cultural privileges of the United States."
Read it all at Jacket2.