LOVE
"I don't/ know what to sing. I am the others. I hope/the others are me. Like the trees/I don't know what to sing./no nightingales on my finger."
–Eduardo Chirinos (April 4, 1960-February 17, 2016).
"I didn't work off the grid. Or prime the surface/If I could get off without it. I made/simple music/out of sticks and string. On side B of me, experimental guitar, night repairs, and suppers/such as this./You could count on me to make a bad situation/worse like putting liquid makeup over/a passion mark."
–C.D. Wright (January 6, 1949- January 12, 2016)
I am grieving the loss of these two brilliant visionary poets, mentors, and friends. Let their poetry and lives guide me through everything they supported and believed in. Both of them offered me light, strength, and wisdom over the years. The loss of them, their spirit, their being is unbearable to poetry and to everyone they taught and loved.
***
WORK
Late January I set out to gather a group of poets, artists, and writers together for a retreat to convert the Thinking Its Presence: Race Creative Writing, and Literary Studies conference into an association, originally sponsored by the University of Montana's English/Creative Writing department (with the help of many UM organizations—including Native American Studies, and the Central and Southwest Asian Studies Center--and the Missoula-run Submittable company). It seemed so hard to work all these details out by myself despite my having the fortune of colleague and collaborator Joanna Klink helping to facilitate and direct so much these past two years; she and I discussed and planned—along with Dorothy Wang and Lisa Jarrett—that what needed to happen next was to require a more sustainable network across the United States: a coalition of Indigenous, Native American, and writers/artists/scholars of color who could form a board to help represent and organize what had happened at these two conferences, and figure out its viability and future. It seemed reasonable to convert it to a national (or international) association so that the conference had its own internal resources to support its next iteration in the form of an even better, more developed conference; and to find the right sources of sponsorship and University hosts for it. Finding a University that wanted to support and advocate for its Indigenous/Native American faculty, students, and staff of color, and who would benefit by having the conference for two consecutive years, if not host it permanently, in order to address—in an ongoing, sustainable way—the needs & issues, and support these faculty needs to create, promote and teach innovative work by these underrepresented groups. Here are the conference reports from John Keene's blogspot, here & here—he is a phenomenal writer, translator, and thinker who helped us envision so much. I am hoping to connect with him soon to figure out what he wants to do with the association and board.
The January 2016 retreat was the right way to begin a new conversation and to reflect, like these reports do, with the unique and glorious exchanges that happened at the conference. We had needed the time to start strategizing this conversion: and so in three days we constructed an extraordinary board of brilliant thinkers and intellectuals with members (see photo below); we are also adding an advisory board with contributors, writers, and scholars who have previously defined the conference's scope and mission through the work they did at the conferences—in the form of keynotes, readings, workshops, performances, and panels. This advisory board is still in the works. Let's not forget that there are also more members who could not make the retreat, Sherwin Bitsui, Farid Matuk, and Dorothy Wang being three of those, absent but present through feedback and dialogue. Throughout the retreat I just kept thinking about how generous this group was—with their time and resources. They are among the many presenters who came to Missoula with their own funds to participate in sharing and work and solidarity.
Taking this to the Poetry Foundation blog is a way for me to announce this development and invite additional feedback to help the board and me think about our board's mission, which is currently a work in progress. 1) How do we explore solidarity, innovation, and writing/text/performances that honor and advocate to bring together the discipline and teaching of creative writing with perspectives from critical race theory, poetics, performance studies, literary theory, literary history, ethnic literatures, and Native American and Indigenous studies. We intend to foster a dynamic exchange among creative writers, artists, performers… And how do I figure out a way, as founder and president, to keep a conference mission from getting too big or start to disengage from how it began? What kind of presence does a conference turning to an association—with these goals—want to have?
MISSION STATEMENT IN PROGRESS* & CONFERENCE DRAFT FOR OCTOBER 12-14, 2017:
With two successful turnouts of attendees and participants, the conference Thinking Its Presence Race, Creative Writing, and Literary Studies is currently being converted into an association with the working title of RASA: Race, Advocacy & Solidarity in the Arts, which will host the Thinking Its Presence conference. We will again examine innovative creative writing and scholarship that re-thinks the complex and inseparable links between literary forms and the racialized thinking, processes, and histories that have shaped this country since its founding. The association will host future conferences that bring together the discipline and teaching of creative writing with perspectives from critical race theory, poetics, performance studies, literary theory, literary history, ethnic literatures, and Native American and Indigenous studies. We intend to foster a dynamic exchange among creative writers, artists, performers, and scholars. To that end, the conference will include readings, performances, panels devoted to scholarship, and panels devoted to critical discussion of pedagogies and institutional practices. The original title of this conference comes from scholar Wang's book Thinking Its Presence: Form, Race, and Subjectivity in Contemporary Asian American Poetry (Stanford University Press, 2013), which won the 2016 Best Book in Literary Criticism Award, sponsored by the Association for Asian American Studies (AAAS). Wang's book makes the larger case "that aesthetic forms are inseparable from social, political, and historical contexts when it comes to the writing and reception of poetry."
But there are also questions to figure out with the association: How do we make use of white allies? How does tokenism and canonical literary traditions isolate the work some of us do and keep us apart? What kind of sponsorship and advocacy adequately promotes the security, writing & scholarship of our members, and also addresses workplace discrimination, isolation, and marginalization that happens to many of these faculty, writers, and artists—sometimes pushing them out of these spaces and/or making it very hard for them to find secure and safe positions to teach and participate? How do we also support the administrative leadership many of them have in their departments, programs, centers, presses and community projects (particularly when they can potentially become so tokenized or run out of those positions due to so many hats/pressures)?
I remember how moved I was to see so much diversity in Missoula those weekends of the conference. And so the University that chooses to host the conference must be a place where the work needs to be done and the visibility is a message of the future, and it supports the faculty in the departments that have been, historically, unwelcoming places. So I'm leaving this open-ended hoping these questions become part of the next conference planning and that our readers will join us at the next conference wherever it happens to be. Thank you Poetry Foundation for letting me blog this month! Thank you friends for reading my blogs!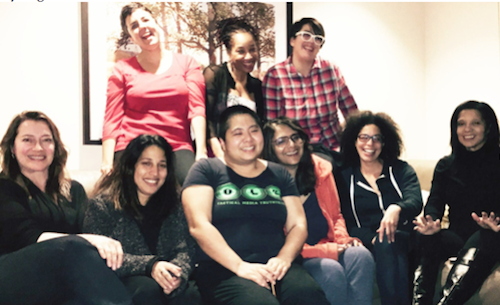 Our January TIP Seattle retreat: counterclockwise: Anita Huslin (front left),Carmen Giménez Smith (top left),Tisa Bryant (next to Carmen), Ching-In Chen (center front), Vidhu Aggarwal (to the left of Ching-In Chen), Lehua Taitano (next to Tisa), Lisa Jarrett and Ruth Ellen Kocher (right corner) and myself. Here we are on day two, feeling exhilarated that we came up with a date for the next conference and a name for our association plus spending that time giving a whole lot of hugs, support, and sharing intellectual work!
* MISSION STATEMENT originally co-written with Joanna Klink, Dorothy Wang and David Witzling
Poet Prageeta Sharma was born in Framingham, Massachusetts. Her parents emigrated from India in 1969, and Sharma was raised a Hindu. She has acknowledged the influence of her parents' religion on her poetry: "I was taught to honor knowledge and books like a religion and so for me poetry keeps...