I'm drawn back to the past in this blog because I just came back from Massachusetts, where I was visiting my family in Framingham. I traveled with Dale's sister Jody Sherrard. It felt good to bring Jody with me because the last time she saw my father and brother was during hospice; we've discussed on the phone over the last several months how we wanted to welcome new experiences together, forging a new kind of assembled family. I think it's what Dale would have wanted.
Reader, I recommend, if it's possible, getting close to your late spouse's sister or brother because you get to see what is familial and what is unique about your spouse through their sibling; and the time spent together, with a kind of consciousness to it, has the potential of feeling enjoyable and reassuring—a way to ease you both through grief and adjust to how you construct yourselves and integrate as you heal together. I sound so self-helpy in this blog. Oh well. These blogs are getting harder to write and I am trying forcefully to hold breezy and hard feelings together. So they become reports—scattered, raw feelings documented with lightness mediating some of it.
***
Framingham and the surrounding suburbs—over the last many decades—was where my family and I found some intellectual mobility and new friends: meeting academics and artists who liked us. I didn't realize how special it was until I started thinking about it more and more (this last year) and also thinking about how present these people still are to me. I've been reflecting a lot on community and the kinds of gravitational pulls to circles we create throughout our lives that, cumulatively, become a life you can see as something integrated and unified.  (I keep going from you to I and back again, I guess my pronouns are signifying my enthusiasm to keep thinking big and small).
My father tells me he's writing poetry. He is currently taking a poetry workshop at the Framingham Public Library facilitated/taught by our family friend, poet and scholar, Bernard Horn, whose colleague Alan Feldman is also in the workshop (or maybe they teach it together? I don't know the details). I appreciate that they spend this time together engaged in writing poetry and it seems to generate a lot of work, pride, and elation. Of course Feldman and Horn are established poets and have taught poetry and English at Framingham State College for many years, and have since retired. They have invited my father into a lively, fruitful space of poetry and friendship.
These friendships blossomed long ago: my father met Bernie through my childhood friendship with Bernie's stepdaughter Hedya Klein, who went to elementary school with me and who is now an amazing artist and professor at Middlebury College. Many years ago Bernie shared his love poem about his marriage with painter Linda (Klein) Horn (Hedya's mom), which pointedly reflected on love and domesticity and has a Hedya/Prageeta cameo in it. It's titled "Our Daily Words," which is also the title of his poetry book. I think I was in college when it was first published and its characterization of us as children stayed with me. Bernie was so kind in sharing his work with me when I was such a young and naïve poet. His poem helped me to see that we write ourselves into our poems and the quotidian can be our themes—the daily words, even the ones Hedya and I stuck on stickers. (I remember that day, we were trying to sell words for 5 cents, going door to door of her apartment building!)
All these years, Hedya and I have remained very close and have collaborated on art and poetry for which I am grateful, and I always tell the Klein-Horns that they were my first art community, a kind of colony all to themselves. Dale used to tell me that when Hedya and I were together we'd fall into a kind of hypnotic childhood state of talking where we could not stop talking and laughing. We agreed with him, and now I cherish this activity more than ever. I also cherish Dale's observation of it, too. And Bernie's.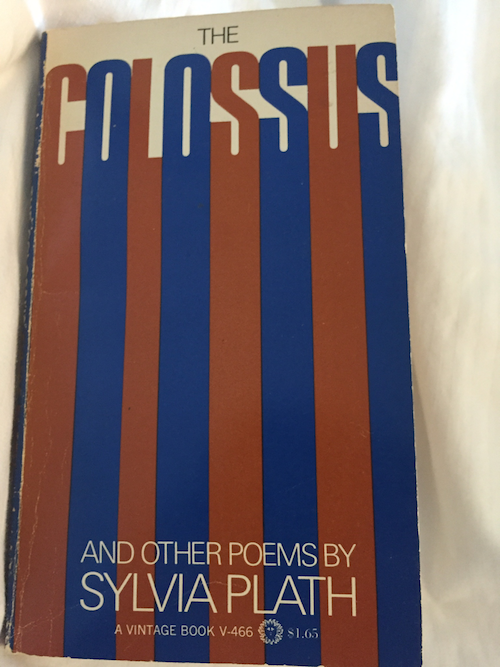 And while I think back to that community, and I am talking non-stop at you, dear Reader, laughing, too, I also want to talk about the intersecting spaces of friendship, poetry books and poets. You see, dear Reader, the Framingham that was comforting this trip also started with the perusing of my father's eclectic library ranging from mathematics and mathematics education and history of India to literature and poetry, which also includes many of my old poetry and school books from moves along the east coast after college, that he lovingly unpacked, saving from the mildew of the garage and shelved with his own stack. In one of the bedrooms I find Robert Frost's Collected and Dante's Inferno, and hidden between the two is Sylvia Plath's The Colossus & Other Poems. Another kind of giant book, though small and thin in size. Plath is someone I sort of take for granted for writing one kind of poem, but I spent the afternoon with her again and felt another aesthetic space open. I saw her clearly as a kind of poetry neighbor, from the Wellesley nearby.
But I'm getting ahead, back to my first encounter with said book. At first I thought it was my copy, but it looked older than most of the books I found or collected, even the first or second print dime store copies I coveted (and still do) with their deco-style and hip-block graphics.
But I opened it up to find an unsigned note to my father, which said "Mahesh—Hard reading this poetry. I think—my favorite is The Spinster—although most of the others are good depending on my mood." Not only was Bernie in our lives but we had the Hirts, too who, sadly, are no longer with us. My father and I think this is written from Howard Hirt, a writer and geography professor or his wife, scholar and professor of social work and childhood education, Muriel Hirt. This couple, like the Klein-Horns, exemplified the eclecticism and intellectual life couples, particularly professor couples, could have or something I imagined from them and wanted to model myself after—vibrant and emotional partnership.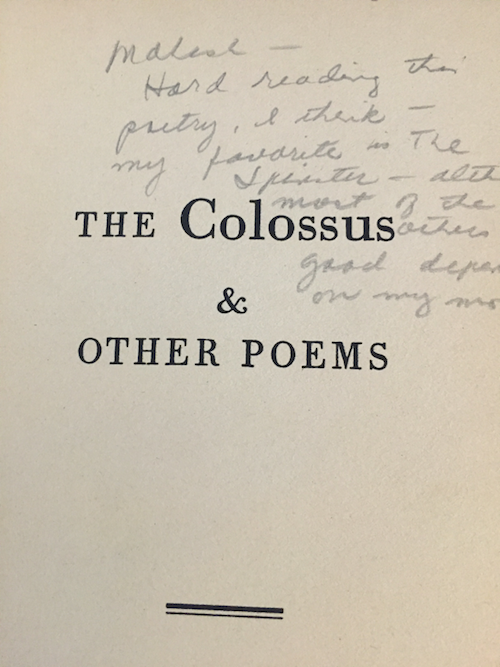 I liked observing their life—or people like them—back when I was a high school and college student finding poetry. They told me stories about the poets and scholars they knew and had come to know: they were part of an interesting suburban and Bostonian cosmopolitan life of some literary and professorial heyday community that somehow included my parents who gravitated to any solace where they could be understood and appreciated for who they were as newcomers to Boston. (Mind you, Howard and Muriel loved them (like Bernie and Linda do) and loved their cultural background; my parents truly appreciated this love and friendship given the racial turbulence of that time—so many families were not so nice to my family back then and my parents suffered terribly from the treatment they received).
Anyway, the Hirts knew Plath and her family, having lived nearby to her childhood home, and were also close friends with a Plath scholar whose work they followed extensively.
I quickly turned to "The Spinster" and read the poem with its ending: "And round her house she set/Such a barricade of barb and check/Against mutinous weather/As no mere insurgent man could hope to break/With curse, fist, threat/Or Love either."
I've forgotten all about Plath's stark brutal truths, and reading the poems here in Framingham I find lines I hold, particularly (in Framingham) the "still suburbs" in "Night Shift" and "that muted boom, that clangor/Far off, not blood in the ears" and the way her poems hold a "mutinous weather" to them that kind of astonishes me with a cinematic melodrama beholden to its narrative storytelling yet it departs into a darkening storm of spare images and similes that unearth vibrant pathologies. Ultimately, the poems are bold barricades of descriptive withdrawal from the world to her riotous mind of earned and endured sensitivity.
***
There are so many cards and notes of condolences I received and each are poems to me. My Seattle friend Mike who wrote about the sound of barges that Dale told him to listen to. Ken brought his presence and words. Spider. Katy, Heather, Lisa, and Hedya. Javier. Sigh. Sarah. Jerry and Jocelyn. Katie. Norman and Carol. Dale's students and friends. Joanna. Sigh. Kate and David. Courtney and Andrew held Dale in music and love. Madison and Gabe. A gift of a candle, a notebook, a pulley, and a sweet purse to hold things from Dorothy. Vicky. Teresa. Too many to share here, but they are so very close to me. Please write your friends poems and write them into poems. Collaborate with them. Do workshops together. Do it all the time. Don't wait to write elegies, make them odes. Send them books where you tell them which poems to read, the ones you like, the ones that represent the moods you two might share. Write them a love poem (after the dreaded V-Day!). Love poems are a kind of elegy, and Plath kind of taught us that. Talk and laugh and talk and laugh and write poems about talking and laughing.
And I think about how many books of poetry were given to my father back in the 1970s and 1980s; how many non-poetry people give their friends books of poetry by near-contemporaries like they did back then?  And how Bernie wrote a poem including me in his family. And then I think about friendship and the sharing of poems, love, and the acknowledgment of the human "moods" we have: how my friends, this last year, sent me poetry, wrote poems to my moods, to Dale, and, to think, my friends are real, live accomplished poets who wrote me poems! How lucky am I?
And I'm going to share two excerpts that I adore. Poet Ruth Ellen Kocher wrote me this in April when my mood was the "heart's frosty discipline/Exact as a snowflake," (Plath) after she hosted me at UC Boulder and took care of me without knowing me well, but letting me trust her with my fragility.  Here her poem builds me a deep, avowing pyramid. And poet Josh Fomon writes to his friend and comrade, Dale ("a flare"). Long lyric sweeps to his essence and gifts. Poets and non-poets alike, we are all spinsters trying to keep living large with our sense of language and spirit. Okay, thank you for letting me ramble.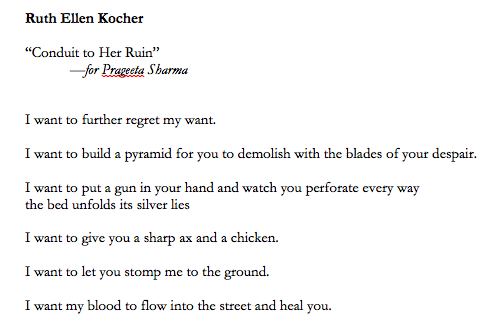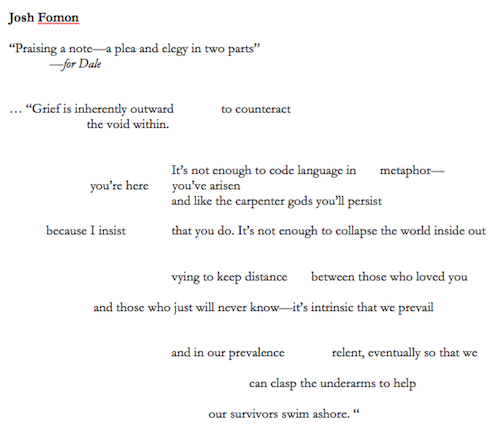 Poet Prageeta Sharma was born in Framingham, Massachusetts. Her parents emigrated from India in 1969, and Sharma was raised a Hindu. She has acknowledged the influence of her parents' religion on her poetry: "I was taught to honor knowledge and books like a religion and so for me poetry keeps...