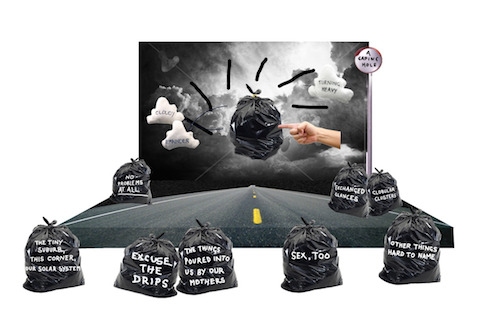 New York Times's Ben Eastham spends a moment with British multidisciplinary artist and Faber-author Heather Phillipson who, like Frank O'Hara, finds solace in the place where visual art and poetry meet.
With her cerebral and charmingly lo-fi installations and videos, Heather Phillipson is leading the way toward a new emotional expressiveness in contemporary art.

ENTERING THE CAFE adjoining London's Hackney Empire theater, the artist and poet Heather Phillipson was briefly engulfed by a pack of schoolchildren. The preteens had emerged from a matinee performance of the pantomime, a quintessentially British strain of musical theater mercifully confined to the holiday season. Having spent the afternoon bawling at a giant at the top of a beanstalk, they were now singing Harry Nilsson's rendition of ''Without You'' — presumably the anthem of the pantomime dame. Phillipson, who is 37 and has auburn hair of the kind admired by pre-Raphaelite painters, picked her way delicately through the crowd.

Like the pantomime, Phillipson's work is dramatic, immersive and emotional. Her most recent project, in Frankfurt's Schirn Kunsthalle, looked like an exploding props department. At the base of the museum's rotunda stood an enormous, slowly rotating polystyrene foot. A host of hand-drawn symbols dangling from the ceiling — heavily lashed eyeballs, wriggling spermatozoa, streaks of lightning — were joined in the firmament by tennis balls and rackets, hot water bottles, umbrellas and an inflatable killer whale.

Quiet but ardent, with a tendency to speak in lists, Phillipson leans forward so intently as she talks that, by the end of our conversation, I was pinned in my seat, very gently, between the table and the wall. She wants her installations to make visitors feel as if they are not in a museum, she explained, but rather ''walking through a poem, a landscape, a body, a swimming pool, a screen, a search engine, a piece of music.''
Continue at New York Times.