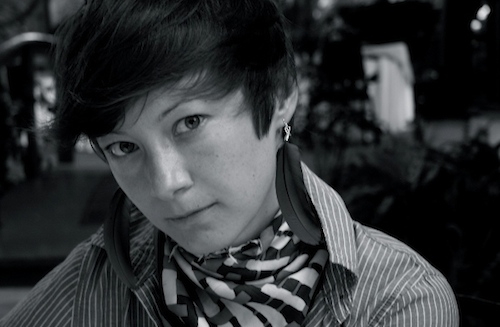 Born in Belarus, poet Valzhyna Mort studied music before she made a lifelong commitment to writing poetry. Why do poets write? "Poets don't sit down to write a poem because they have a story to tell, it's the language that tells a story." Mort is intent on crafting poems that reflect her native country's identity. More:
Valzhyna Mort grew up in Belarus as the Soviet Union collapsed, and she's spent her entire career using poetry to dispel misconceptions and bring her country out of Russia's shadow.

"A great myth was that it was a really big reading nation, and I don't know if it was really true, in terms of how much reading was done," Mort told KGOU's World Views. "But it's certainly true that every household had a library. No matter what your parents did, how educated they were, you had a library."

She played with books the same way she played with dolls, indiscriminately read prose and poetry, and started writing the way most children do – to try to put their imagination to paper. But she says poetry is nothing like everyday language. It's concerned with finesse and detail.

"We order coffee, and we don't want to be brought a cup of tea. We want to be understood very quickly," Mort said. "But a poem is not concerned with utilitarian aspect of language. It has an anthropological approach to language. It looks for reasons for a table to be called a table, even though it's absolutely arbitrary."

During a 2013 interview with the website Poetry Daily, Mort said Belarusian has a reputation as a "soft language, a language of lullabies." But like the perception that every Belarusian citizen reads, she said it's more understated, and needs context.

"[It] drags along with it the myth of Belarusians as being calm, peaceful, and tolerant people," Mort said. "It's all a very superficial, artificial construct. And a very Soviet construct – the younger Belarusians, Russians' younger brothers and sisters. The calm ones. The tolerant ones. The all-enduring ones."

Mort laughed as she described herself as an "angry, aggressive person," and said there's nothing soft about her poetry. But her writing isn't an outlet for that, since she never separates herself from poetry, or poetry from herself.
Listen in at World Views.