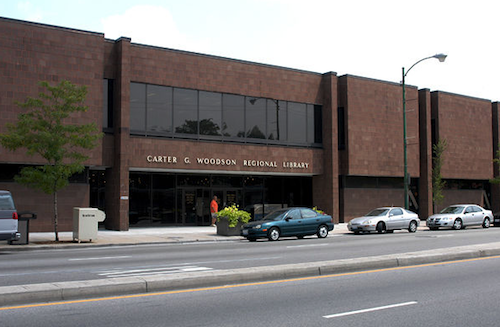 On our library beat this week, we discovered the disappointing news that a collection of priceless African American literature is in danger of being lost due to the crumbling infrastructure of the library that houses it. According to Alexis Buchanan at Nonprofit Quarterly, "The Carter G. Woodson Library in the Southside Chicago neighborhood of Washington Heights, which is primarily African American, is in danger of being destroyed as the building housing it crumbles. The city does not seem to have a timely solution to save it." More:
Carter G. Woodson Regional Library opened December 19, 1975, in a two-story building housing the Vivian G. Harsh Research Collection of Afro-American History and Literature, the largest collection of its kind in the Midwest. The library was named for Dr. Carter G. Woodson, known as the father of African American historiography. A prolific writer and founder of the Association for the Study of Negro History and Life, Woodson made many contributions to the study of African American history and culture. In 1998, an 11,000-square-foot wing was added to expand the Vivian G. Harsh Research Collection, named after Chicago's first black librarian. The expanded collection opened January 25, 1999.

But not much work has been done to repair and keep up the building since then. WGN reported that the building is literally falling apart, putting into danger its priceless collection, which features slave and genealogy records, and original manuscripts from notable black authors. There is scaffolding around the building that has existed for so long that few can remember when it was placed there. (According to the city, the scaffolding was installed during the Daley administration in 2002, over 14 years ago—first around the entrance, and then expanded to take up the entire front of the structure.) The city says shoddy construction and poor design of Woodson library, built 40 years ago, led to this, and now the scaffolding is now in place to protect pedestrians, surrounding this very busy regional library, which is reported to have 25,000 people coming through the turnstiles to visit each month.
Continue over to Nonprofit Quarterly to read more about the state of the collection, what is being done to save it, and what role the Illinois state budget stalemate is playing.