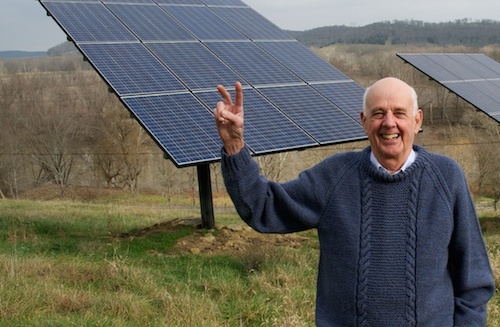 The new documentary called The Seer: A Portrait of Wendell Berry is a portrait of poet, farmer, and environmental activist Wendell Berry and pays especially close attention to his surroundings in order to provide audiences the opportunity to see the world through his eyes. Robert Redford and Terrence Malick executive produced the documentary. More:
The film, "The Seer: A Portrait of Wendell Berry," directed by Laura Dunn and Jef Sewell (also the producer) and executive produced by Robert Redford and Terrence Malick, is as much a love letter to family farmers and the rural country, where Berry has deep family roots, as it is a straight-ahead portrait of the author.

Dunn, 40, felt a documentary about Berry needed to be more than a traditional head-on interview, interspersed with B roll. Early on, she was inspired by Berry's 40-pane window for a way to present her subject. Like the painter Chuck Close's portraits, which are made up of small abstract units that together create a subject's likeness, Dunn focused her camera on the landscape, people, and past to give us a deeper understanding of Berry's life and works—so it's not so much about Berry himself, but instead, what he sees around him.

The film is shot "across four seasons in the farming cycle … [and] blends observational scenes of farming life, interviews with farmers and community members with evocative, carefully framed shots of the surrounding landscape, according to the film's website. In an unusual move for a documentary about a living person, the camera is never turned directly on its subject.

"It was clear to me through my conversations with Wendell—and reading his texts about computers, screens, and media—that this is a person who is very skeptical of screens, and as a filmmaker that's a challenge," says Dunn. "If you want to draw a portrait of someone, what you're trying to do is capture in some small way some reflection of the essence of that person. With Wendell, it occurred to me early on that this couldn't be a biopic. That wouldn't capture the complexity of him in my mind."
Learn more at Modern Farmer.