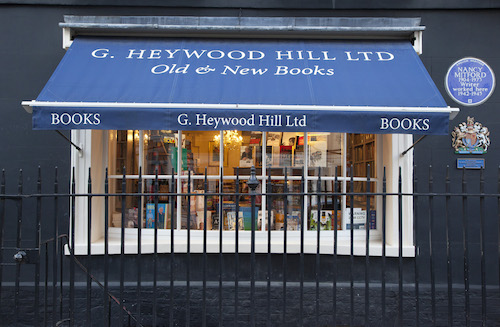 One paragraph in to this New York Times article about Heywood Hill and you'll want to read more. The unique London literary landmark where Nancy Mitford once worked is a go-to for bibliophiles hoping to create a personalized collection and for sleuths on the hunt for an obscure title. More:
Let's say you need some books. Maybe you have recently acquired a big fancy house, boat or plane with a big empty library, and you want to fill it with real books, not those things that look like books but are actually built-in fake book spines engraved with ornate titles.

One lazy solution would be to employ a decorator to acquire an aesthetically pleasing instant collection. Another would be to visit an estate sale and hoover up someone else's, caveat emptor. Or you could do what the smartest bibliophiles do: Put yourself in the hands of the staff at the London bookstore Heywood Hill, who promise to go to the ends of the earth to hunt down the books you need — the rare, the old and the out of print as well as the newly published — to build your perfect custom library.

''It's not that we're selling by the yard,'' said the store manager, Nicky Dunne. ''But if they're interested in a subject'' — 19th-century French topiary, Brutalist architecture, salmon husbandry or something more obscure — ''and haven't properly explored books on that subject, then they come to us.''

When Dunne, 45, says ''us,'' he is referring to a lovely old Mayfair shop with a rich history. John le Carré set a scene there in his great novel ''Tinker Tailor Soldier Spy.'' Real-life characters associated with the store include Heywood Hill himself, who opened it in 1936; his successor as manager, the delightfully named Handasyde Buchanan; Nancy Mitford, who worked there during World War II and filled it with her gossipy society friends and immortalized it, in her way, in the novel ''The Pursuit of Love''; and John Saumarez Smith, the deeply intellectual and beloved manager from 1974 until 2008.
Continue at The New York Times.