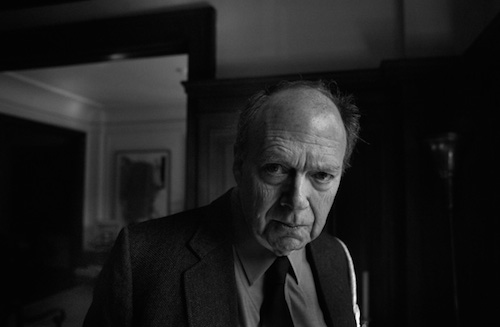 At the New Yorker, Dan Chiasson considers the sixteenth collection of poetry by Frederick Seidel, Widening Income Inequality (Farrar, Straus & Giroux). "To encounter a poem by Seidel is . . . to be co-opted into his Ricardo Montalban aesthetic of creepy luxury," writes Chiasson. More from this review:
Whenever Seidel publishes a book, a portion of his readers recoil in offense, while others celebrate his courage and cunning. The dispute arises from passages like the following:

I live a life of appetite and, yes, that's right,
I live a life of privilege in New York,
Eating buttered toast in bed with cunty fingers on Sunday morning.
Say that again?
I have a rule—
I never give to beggars in the street who hold their hands out.

The "buttered toast" and "cunty fingers" come courtesy of the English novelist Henry Green, who was quoting an old butler's musings on life's great pleasures. There's something predatory about both the undisclosed allusion and the "life of privilege" it's made to illustrate. With their deeply literary brand of shock, these lines orchestrate a specious conflict between two inadequate responses. You can take the bait and say, "What a jerk! Wow—that thing about the fingers!" Or you can mount a kind of A.P. English defense of them: the speaker isn't Seidel at all but a "character named Frederick Seidel," as the critic Richard Poirier put it, "that has little to do with who he really is." Robert Browning didn't kill Porphyria in "Porphyria's Lover." T. S. Eliot wasn't the one "pinned and wriggling on the wall"—that was Prufrock. The louche vampire who sniffs his fingers and spurns the poor isn't Frederick Seidel—even though, as we learn elsewhere, this "character" who has so little to do with Seidel lives in Seidel's apartment, socializes with his friends, and shares his tastes in wine, shoes, and motorcycles. In photo shoots, Seidel stands in his Upper West Side living room, dressed up like "Frederick Seidel," surrounded by décor whose provenance we have come to know from his poems. The troubling power of this work isn't its distance from its author but its stifling proximity.
Chiasson goes on to give us some background, and find some grief, some "mortal comedy," in Seidel's work--read it all at the New Yorker.