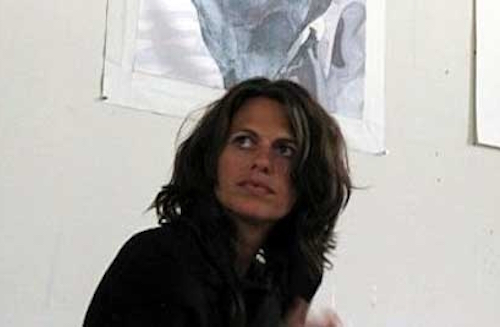 Anna Moschovakis is having a good week. In advance of the release of her third book, They and We Will Get Into Trouble for This (titled after David Antin's collection of the same name), the poet talks about what it means to be a successful poet at Flavorwire.
Moschovakis also discusses, with Shane Barnes, "her philosophy background ... the necessity of empathy in life and in poetry, and how someone with four jobs manages to find the time to put out a collection like They and We Will Get Into Trouble for This." An excerpt from their conversation:
Do you think that the actual language of the philosophers worked its way into your poetry? You said your angst from the program inspired it, but can you see any of that in your writing?

Probably most directly is from Wittgenstein, which is a sort of recursion — I'm always terrified to say something about a philosopher I admire, when other people know so much more than I do — but, in my reading, part of what to me, as a non-philosopher drew me to Wittgenstein, is the way in which revision of ideas and revisitation of formulations of ideas remain in the text, and so there are returns and revisions and it's not like everything is edited down to a message which is then delivered whole. There's something that feels like it's left in there, of the process of thinking, and thinking is one of my subjects. We can't get away from it. I felt permission from reading him to leave it in.

For a time, I read more analytic philosophy, and there's one side of that that really struck me. The sincere attempt to break down and explain something in a systematic way, there's something about that desire even to do that. To break things down in the way that can be diagrammed. That's always interested me, though every part of me rejected it as a goal.

When you talked about Wittgenstein and what you interpret as his leaving the process in his work, it definitely spoke my job, where I feel I need to approach writing with my opinion fully formed, and that sometimes makes me uncomfortable. But you also mentioned empathy, and I was wondering if you felt that was essential in poetry?

I appreciate what you said about the world you're working in, and the expectation you have to be sure of one's position. I do feel like this is a particularly anxious moment for me, because my whole sort of expecting and accepting mistakes, and being mistaken, is a pretty essential part of my politics, if I have one, and it's not an easy one to sort of defend. So, empathy, I feel like — I don't even know how to separate poetry and living. That's a cliché, but I don't.

Trying to have empathy or feeling like you feel empathy for an other, those are places where mistakes are inevitable. I guess I don't know what it would mean to be alive with other people without being very concerned with empathy. And I know that there are people out there writing polemics against empathy. I think maybe something like openness is a simpler way to talk about it. Or, opening, because it's a verb, it's not a state that you reach. All kinds of shit comes in and gets exposed in that, so. So, it's also always going to be wrong.

I wanted to ask you about all the different jobs you do, as a poet, a translator, and at Ugly Duckling Presse. How do you manage your time? Is poetry a priority for you? Are there moments when you feel you have to write?

You didn't mention a big thing: I'm an adjunct teacher...