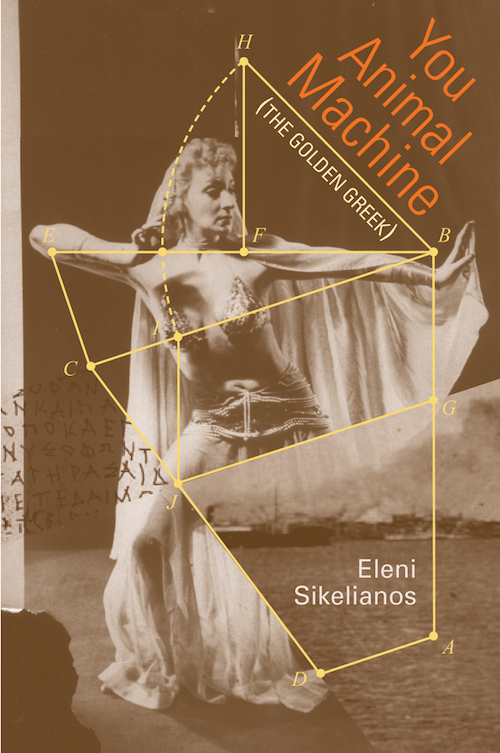 In a recent Boston Review essay "Spectacle of Transformation" Marcela Sulak takes a close look at three cross-genre works by women that address transformation: You Animal Machine by Eleni Sikelianos, In the Circus of You: An Illustrated Novel-in-Poems by Nicelle Davis and Cheryl Gross, and You Who Read Me with Passion Now Must Forever Be My Friends by Dorothy Iannone, edited by Lisa Pearson. More:
Woman-freak, woman-beast, and woman-man: these three recent hybrid books explore radical transformations. Presenting subjects who experience everything from the disfiguring fragmentation of the freak show and peep show to the birth of a goddess outside of time, these works make spectacles of themselves and of us. All three combine graphics with text: drawings, paintings, and photographs intermix with letters, distressed newspaper clippings, stained recipes, memoir, lyric essays, and poems. By promoting a robust and textured experience of time, these particular genres reveal stories usually invisible through the lens of history, especially stories of the forces that contain women's bodies and lives—societal mores and expectations, marriage, depression, mental illness, and abuse. Their broken narratives map territory previously unnavigable by means of traditional forms, scaffolding new connections between subject and object, selves and others.

• • •

Sikelianos begins You Animal Machine (The Golden Greek), a memoir of her exotic-dancer grandmother, by gesturing to all of human history:

I see the lines of our ancestors laid out in filaments looping here and there, bifurcating, disappearing. . . it was and is a man and a woman, two by two, each representing a small electrical hyphen of human intelligence and endeavor illuminating the path that leads to me sitting here—; men and women, each with eyes lit up for at least one moment in their lives; loving each other in the dark before the advent of writing; or a brief encounter, maybe forced, that led to the continuation of a line; these packets of genes waiting, and that uncontrollable animal urge toward making things—love, babies; the ranks moving forward and forward. . . until they reach the edges of history; and forward, farther, till they hit the periphery of family lore.

Conventional family memoirs can be suffocating for female characters, who as daughters and mothers seem to serve as human vessels, but this memoir-in-essay is an anti-memoir, mostly concerned with what we do not and cannot know, what we refuse to see. These gaps are what liberate Melena, the professional spectacle that is this memoir's subject. Melena, a burlesque and exotic dancer, is daughter of a Greek immigrant (or refugee?), mother of three, wife of five, possessed of nineteen different names and aliases (two of which are secret and two unknown), and the grandmother of the author. "It matters," Sikelianos tells us, "that there are holes in a family history that can never be filled, that there are secrets and mysteries, migrations and invasions and murky bloodlines. In this way we speak of human history."
Continue at Boston Review.