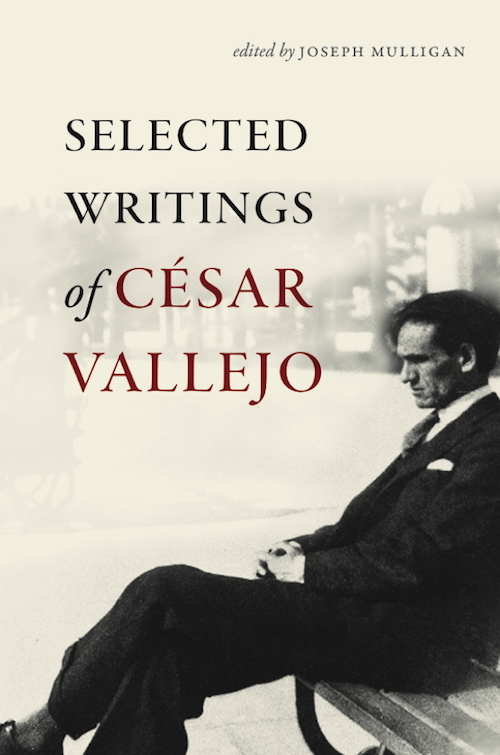 At Jacket2, Patrick James Dunagan looks into César Vallejo's Selected Writings, edited Joseph Mulligan and published by Wesleyan University Press. Most of the English-speaking world thinks of Vallejo exclusively as a writer of skull-splitting verse, but under Mulligan's editorial hand, Vallejo the playwright, journalist, fiction writer, and scholar emerges. From the top:
Peruvian poet César Vallejo (1892–1938) has long been recognized as a defining early twentieth-century experimentalist, but the full expanse of his writing — which extends well beyond poetry alone — has never been fully revealed to Anglophone readers until now. The diverse range of material in Selected Writings will surprise any reader familiar with Vallejo only in English translation. Editor Joseph Mulligan presents hearty selections from each of Vallejo's collections of poetry along with excerpts from Vallejo's fiction, plays, critical essays, and journalism. This is all in addition to an excerpt from Vallejo's published undergraduate thesis Romanticism in Castilian Poetry (1915), as well as selections from his correspondence and private notebooks, all presented in chronological order.

It is readily apparent that Mulligan's contention is accurate: "Few times in the history of Western Literature has the representation of such a multifaceted figure been so one-dimensional."[1] Clayton Eshleman's near lifelong commitment to translating Vallejo's poetry resulted in The Complete Poetry, and it was Eshleman who suggested the Selected Writings project to Mulligan (xv). Yet poetry was clearly only one of many avenues through which Vallejo's critically engaged thinking successfully took shape. Mulligan's selections are drawn primarily from the dozen-volume Obras Completas published by the Pontificia Universidad Católica del Perú. Putting aside the dearth of his non-poetry-related work's availability to an Anglophone audience, the sheer mass of Vallejo's output is rather astounding; it is simply an amazing amount of writing, considering Vallejo passed away at forty-six.
Dunagan goes on to think about Vallejo's often complicated relationship to Marxism:
As an artist Vallejo is wary of overly compulsive impulses within Marxist thought which tend toward uncritical acceptance among leaders and followers alike. He describes how for "hardline Marxists, fanatical Marxists, grammatical artists, who pursue the realization of Marxism to the letter" the result is that "life ends up being at the service of doctrine, instead of the latter at the service of the former" (367). Vallejo draws historical parallels, pointing out that the problems inherent in Marxist ideology are nothing new: "These are the doctors of the school, the scribes of Marxism, the ones who oversee and, with the jealousy of amanuenses, guard the form and letter of the new spirit, just like all the scribes of all the gospels throughout the course of history" (367).

Vallejo's assessments are complex. His engagement comes as both a critical and creative thinker. The limits of perceiving "that Marx is the only philosopher of the past, present, and future" are immediately transparent to him since "according to these fanatics, Marx will be the last revolutionary of all time, and after him no man in the future will be able to create anything ever again. The revolutionary spirit ends with him" (367). This line of thought allows too little space for the unique merging that is the creative and revolutionary drive behind all Vallejo's writings.
There's much much more in this review you'll want to ponder. Head to Jacket2 for it all!