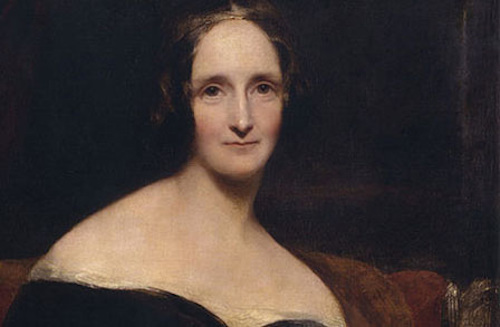 According to Writer's Almanac, Mary Shelley's Frankenstein was published today in 1818, and so, perhaps it's fitting that this interview with Laura Mullen by Maria Anderson ponders Mary Shelley first, before delving deeper into Mullen's new book, Complicated Grief, and concepts of safety, protection, and sadness. More:
Laura Mullen is the author of eight books: Complicated Grief, Enduring Freedom: A Little Book of Mechanical Brides, Dark Archive, Murmur, Subject, After I Was Dead, The Tales of Horror, and The Surface. Recognitions for her poetry include Ironwood's Stanford Prize, a National Endowment for the Arts Fellowship, and a Rona Jaffe Award. She has been a MacDowell Fellow and a frequent visitor at the Summer Writing Program at the Jack Kerouac School of Disembodied Poetics at Naropa University. Her collaboration with the composer Nathan Davis, "a Sound uttered, a Silence crossed," will be performed at Williams College in May. Recent poems have appeared in BOMB and are forthcoming in The Nation and Poetry.

Complicated Grief is named after a persistent complex grief disorder, but the book is more thrilling than depressing in its incredible examination of pain lasting long after the initial loss or trauma. I found myself reading certain sections again and again in order to experience them in different orders, and returning often to the introduction to unpack its charged, pleasantly confusing, mesmeric layers.

Laura and I talked over email about obsession, the development of germ theory, cycles of abuse, and the idea of protection.

***

The Rumpus: One quote in particular that struck me in this furious and gorgeous barrage of an introduction, which you call the "Demonst(e)ration," was "Decaying matter is so horrible a poison that certainly no aspects of the individual can provide protection" (viii). You also bring in ideas concerning Frankenstein, 19th century body-snatchers, Derrida's ideas about de-monstration, otherness, self-assembly, and Stein's "Identity a Poem."

Laura Mullen: I love that you call it a "furious and gorgeous barrage." That helps me see the relation between the introduction and the book's final section, where writing about a fire (and about the attempt to understand the event), also becomes an attempt to understand how writing might get closer to the fire, in so many ways. But the quote you cite is likely to be from Ignaz Semmelweis (1818-1865), the inventor of germ theory, whose research helped curb childbed fever, though his findings waited quite some time for confirmation. Mary Wollstonecraft Shelley (whose mother died ten days after she was born) wrote a novel that anticipates Semmelweis's discovery and serves as a parable for the destructive power of decaying matter. In Frankenstein there is a transfer first of life into death (in the creation and animation of the monster), and then of death into life, as the monster takes his revenge on the father who gave him life but withheld recognition.
Continue reading at The Rumpus.