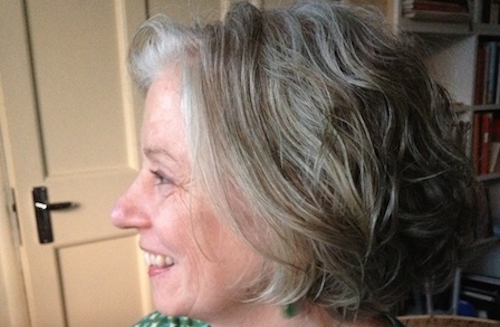 Broadening our scope today is Maureen N. McLane, who writes with clear enthusiasm about seven women poets "on the verge" for Vela. If you didn't know Tonya Foster, Sarah Howe, Alice Lyons, Erica McAlpine, Robin Beth Schaer, Fiona Sze-Lorrain, or Fiona Wilson, why, now is a chance. "I've decided to write on those poets who have most impressed and moved me, and who haven't yet found a mass audience—though what poet, beyond Maya Angelou, finds a mass audience?—because poetry often gets the short end of the stick in reviews, and because these writers are great, and they deserve a large readership."
A brief understanding of Alice Lyons (pictured above), for instance:
Alice Lyons

Alice Lyons, the American poet, essayist, filmmaker, and curator, has just returned to the U.S. after eighteen years in Ireland. Lyons has a wonderfully bi- or tri-focal perspective on poiesis—on "making," in its broadest sense—and her several inheritances (American, Irish, and European) make themself felt in her forthcoming book, The Breadbasket of Europe (out March 2016). Breadbasket is both lyrical, in the traditional sense, and conceptual. (Lyons's title is, by the way, a common epithet for Ukraine.) Throughout the work, Lyons dynamizes the page itself—at times it functions as a field, other times it seems a screen, still other times, a "page," as one might conventionally understand it, a surface for print.

Breadbasket contains a remarkable long section, "furthermore New York," (where we trace—among other things—the poet-emigrant's earlier brief return to the U.S.). The book features episodes in Ireland and a section, "Fell," that tracks the poet's own ancestry and "fallings" (we might say) through generations of women: this particular movement culminates in a wonderful section in which a grandmother's handwriting moves boldly, touchingly and perhaps a bit pathetically across the page. "Furthermore New York" offers a strong and surprising turn on family inheritance, U.S. and Irish relations (in all senses), linguistic cruxes, what's traced and traceable. Breadbasket is especially concerned, then, with migrations, personal and transpersonal; the book is punctuated in its last movement (the "Whaling Log" episodes) by a rollicking Melvillean sea-voyage—which reminds us that the Pequod was itself a ship of many nations and voices.

Lyons' extensive and intensive work in poetics, video, criticism, animation, and the archive mark her as a most unusual artist, scholar and curator. Her work in all registers is delicate, cumulatively powerful, at times elusive, yet also coherent in its means and preoccupations: the feel of the contemporary, the question of place and identity, how to map oneself and others, how to inscribe—provisionally—a place, or simultaneities of placings. (Read—and hear her read—her poem, "Developers.") Lyons wrote an impressive PhD thesis (soon to be a book) on the experimental filmmaker Hollis Frampton—and there she argued that Frampton achieved a lyricization of cinema. Her own work in Breadbasket suggests a cinematics of lyric, with its discrete yet related sequences, its montage-like compositional logic. Look for this work, and for more from Lyons, soon.
Read more here.