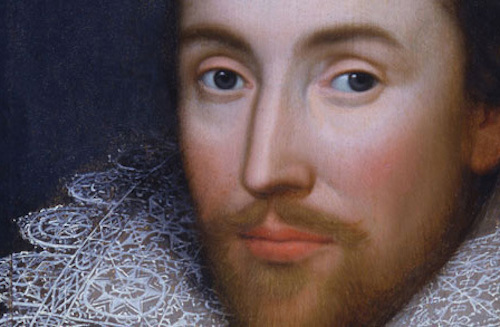 Prompted by the 400th anniversary of Shakespeare's death, Folger Shakespeare Library is sending a flock of William Shakespeare's First Folios on a nationwide tour called First Folio: The Book That Gave Us Shakespeare. The New York Times's Jennifer Shuessler visits the tour on a stop in Vermillion, South Dakota where Shakespeare-fever has swept town.
VERMILLION, S.D. — Visitors to this town of about 11,000 on a bluff near the Missouri River have long been surprised to learn that it's home to a set of rare Stradivari stringed instruments, which are housed in a museum here along with the world's oldest playable harpsichord, the oldest surviving cello and some 15,000 other historic instruments.

But this month, visitors to the National Music Museum on the University of South Dakota campus have also found themselves face to face with another seemingly misplaced cultural treasure: a Shakespeare First Folio.

The book, on loan from the Folger Shakespeare Library in Washington, drew a steady stream of visitors last Saturday, including Amy Redhage, who had driven seven hours from Lowden, Iowa, with her five children.

"I went to Stratford-on-Avon with my high school orchestra, but I don't think we got to see anything like a First Folio," she said with a touch of reverence.

Other pilgrims have shown flashes of outright Shakespearemania, like a college student who visited later that afternoon and announced her intention to get a passage from "Macbeth" tattooed on her side.

"She stood next to the Folio and tried to keep herself from crying," said Patricia Bornhofen, the museum's communications manager, who was keeping watch over the exhibition.

The 400th anniversary of Shakespeare's death is prompting celebrations around the world. But few efforts are more ambitious than the Folger's efforts to send a fleet of First Folios barnstorming to all 50 states and two territories, including 35 where the book seems to have never been displayed before.
Read all about it in The New York Times.