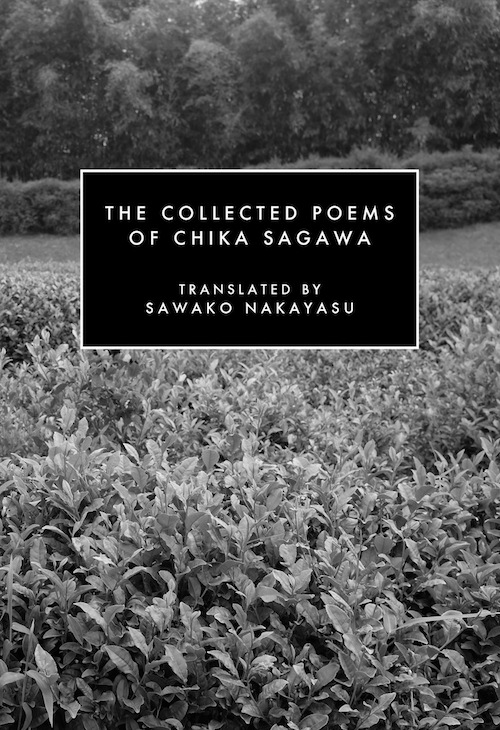 Congratulations to Sawako Nakayasu, whose translation of The Collected Poems of Chika Sagawa is the winner of this year's PEN Award for Poetry in Translation! To celebrate, Canarium Books is offering the book for free with any order or pre-order (though we hear stock is low, so you might want to hurry). Other 2016 PEN Literary Award winners can be found here.
Nakayasu published one of her translations of Sigawa's work, "Backside," in the April 2009 issue of Poetry. In her translator's note, she writes:
Though highly esteemed by poets in her day, Sagawa is a modernist poet who had previously been excluded from the Japanese literary canon. The fact that Sagawa was a woman, or that she died young, must have played a part in this omission, though the reasons are no doubt more complicated than that. Some speculate that it is because her poems did not espouse typically feminine topics, while others suggest that Sagawa's engagement with Western modernity did not serve the nationalistic agenda of literary historians in the forties and fifties, as they sought to mold a uniquely Japanese canon of literature.

Sagawa's sensibility was formed in the expansive yet extreme climes of her native Hokkaido (the northernmost island of Japan), while her move to Tokyo at the age of nineteen complicated this with her newfound tastes for the cosmopolitan feel of the city. In her poems, a tension between nature and artifice, or rural and urban settings, is explored with a subtle and often visceral violence, as with the opening line of the poem here: "Night eats color." This is followed by a criticism of artifice—"Flower bouquets lose their fake ornaments"—as if portraying nature's desire to free itself from the man-made.

Many of Sagawa's poems operate in a fashion similar to a tableau or montage, placing images one after the other in the reader's eye. That is all, and that is enough—there is no need for conclusions or epiphanies. [...]
Judge Urayoán Noel writes in his citation for the award:
The first comprehensive English-language collection of this major Japanese modernist's work, The Collected Poems of Chika Sagawa is a substantive contribution to our understanding of twentieth-century Japanese poetry, and indeed global modernist poetics. Nakayasu's formidable translations capture the verbal kinetics and striking imagery of Sagawa's poetry without sacrificing its clarity and economy. Sagawa's audacious voice is at once world-weary and eerily contemporary, surreal in its metaphoric leaps yet precise in its confrontation with the real. There is death and decay here, but also a beautiful urgency, what Sagawa calls in the aptly titled "The City Possessed" a desire "To arouse, anticipate, and hope for / A building, grand with memories / Atop every other ruined thing." Nakayasu's compelling introduction discusses Sagawa's all-too-brief life and the resonance of her work, while engaging complex questions of gender and form in Japanese poetry, the East-West politics of modernism and the avant-gardes, and translation in a multilingual context.
You'll want to head to PEN to check out all the winners, including Ed Roberson who took home the PEN/Voelcker Award for Poetry. Congrats to all!