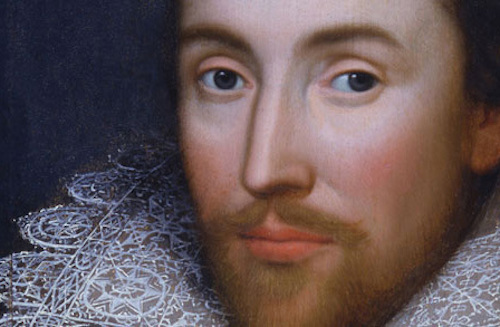 Did an 18th century doctor rob poor William Shakespeare of his noggin? Perhaps, reports Christopher D. Shea at the New York Times. As it turns out, recent scans of the Bard's grave show something to be rotten in the state of Stratford-upon-Avon. From the top:
"Curst be he that moves my bones" reads part of the inscription above Shakespeare's grave at Holy Trinity Church in Stratford-upon-Avon. But apparently, someone did.

Researchers led by Kevin Colls, the project manager at the Center of Archaeology at Staffordshire University, have uncovered evidence that they say indicates that Shakespeare's skull was stolen from his grave by a local doctor in 1794.

The research project began in 2010, when Mr. Colls was working on another excavation project at the site of Shakespeare's family home in Stratford. The former vicar at Holy Trinity Church approached him about the possibility of examining the grave site, which has been the subject of rumors for years.

Mr. Colls and a team of researchers at the University of Birmingham, where he then worked, dived into archives and uncovered wide-ranging tales that Shakespeare, for example, was buried in an off-site family crypt or that was buried 17 feet below the church. Results proved inconclusive. So, with a new team at Staffordshire University, where he began working in 2013, Mr. Colls turned to radar imaging. The church resisted the idea, but eventually granted permission to study the site.
Scans of the lower portion of his body proved all the bits to be intact, but when the team examined the area of the tomb where Shakespeare's head should rest, something was certainly amiss. What did Colls's team do?
So the team turned its attention again to the archives, poring over tomes of folkloric evidence to find any accounts that might offer reliable insights into what happened to Shakespeare's head. Its attention was piqued by a report of a 1794 grave robbery by a doctor, Frank Chambers; it was printed in the late 19th century in a thinly circulated magazine. The report had been generally debunked, but as the team looked closer, kernels of truth emerged.
Read on at the New York Times for forays into quantum mechanics, twists, and subplots.