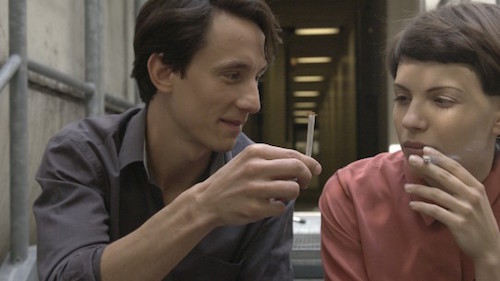 While Harriet staff writers don't really get sent on the international film festival circuit, we should have made a case for the 66th Berlinale. Screened as part of the Forum program this year was an 89-minute film called Die Geträumten (The Dreamed Ones), directed by Austrian writer and filmmaker Ruth Beckermann. Why do we mention? It's based on the correspondence of Ingeborg Bachmann and Paul Celan. Details:
It's not uncommon for a film to have a moving love story at its core. Yet this particular set-up is unusual. The lovers here are Ingeborg Bachmann and Paul Celan, both important representatives of post-war German-language poetry. The story of the relationship between the Austrian and the Jew from Czernowitz is told through their nearly 20-year correspondence (1948–1967). Or, more precisely, by a young woman and a young man reading from their letters in a studio in Vienna's venerable Funkhaus. You hear longing, accusations, doubts, expressions of intimacy and alienation, news of separations and lengthy silences. You sense their struggle for words. What these words trigger can be seen in the faces of those reading them out. It's not only the text but also its effects that are being performed and occasionally discussed. The intensity of the relationship drama is generated via the fascinating language, the actors' presence, and the camerawork and editing, which break up the dialogue via changing perspectives and shot sizes. Chats during cigarette breaks, in the stairwell and the canteen, lead into the present. History, which was stronger than love, never slips out of focus.
In the still above, actors Laurence Rupp (as Celan) and Anja Plaschg (Bachmann). If this doesn't come to the States, somehow, we'll fall face first onto the hot plate. An excerpt of The Dreamed Ones can be watched below. [Update: No need to face-plant on that hot plate. We learned The Dreamed Ones will be making its North American premier at The Film Society of Lincoln Center on Tuesday, April 19th at 6:30 PM (Q & A with director Ruth Beckermann to follow the screening).]
https://vimeo.com/155213115
In an interview for Austrian Films (in English and German) Beckermann discussed the film:
Both Ingeborg Bachmann and Paul Celan are very linguistically intense voices in post-war German-language poetry. How do you find a film language that corresponds to this linguistic concentration? How did you approach the scenic writing involved?

RUTH BECKERMANN: The idea that two people (not necessarily actors) should play voice artists recording the letters in a sound studio for an audio book or radio show was there from the very start. But originally it was only going to be part of the film. The plan was that the voices would shift OFF and I would then film at the places where Bachmann and Celan lived – not documentary style, in their homes, but in a very associative, free, modern sense. In Paris, Munich, Zurich and Rome. At the beginning I was thinking in a more essayist direction, and I'd already filmed some sequences and recorded sound at a number of places. Before we did the filming with the actors I arranged a run-through with friends to establish whether the script was powerful enough for such a radical reduction. I think by then I was secretly hoping it would turn into a sort of Kammerspiel, an intimate psychological study. When we started filming the two actors, Anja Plaschg and Laurence Rupp, were so powerful that the condensed version worked fine. After the first few scenes my editor Dieter Pichler and I looked at each other and said: "That's it – we stay in the room".

[...]

The correspondence describes a love that was lived but at the same time, to a much greater extent, a love that wasn't lived. Did that influence your choice of title, The Dreamed Ones, which is taken from one of Bachmann's letters?

RUTH BECKERMANN: This love has the character of a dream.