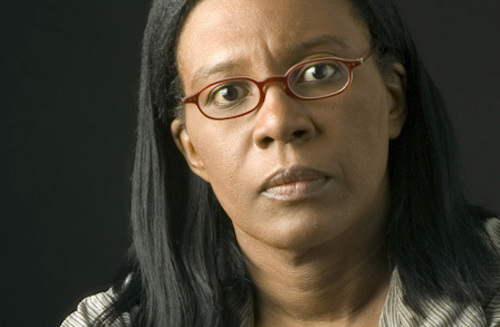 In her AWP 2016 keynote address, it is reported and rumored both that Claudia Rankine held the fort completely rapt. As Boris Kachka writes for Vulture, "[h]er stated topic was 'what keeps us uncomfortable in each other's presence' at the book fair, or, more specifically, what she sees as persistent racial tokenism in MFA workshops." More on what unfolded:
Elegant and warm in a thick violet scarf and a green-embroidered shrug, Rankine opened funny, showing off slides of L.A.'s best sights — Randy's Donuts, the Museum of Jurassic Technology, and her own lush backyard — before moving on to say that even many MFA courses that have diversified student bodies "have successfully tokenized a person of color, objectified, exploited and disregarded her all at once." One of her raucous applause lines: "Unintentionally discriminating is as bad as intentionally discriminating because the result is the same."

By way of illustration, Rankine read out loud an email sent to her by an (anonymous) African-American student who was thinking of leaving his or her program because they were told that "certain life experiences are said to belong to sociology and not to poetry, and that to write beyond the imagination's notion of normality is to write political poetry, sociology, identity politics poetry, protest poetry — many labels but none of them poetry. For in order for poetry to be poetry," Rankine continued, "white readers must find it relatable, and only then can it transcend its unrelatable colored writer."

Rankine is celebrated for straddling genres — Citizen was nominated for National Book Critic Circle Awards in both poetry and criticism — and beneath her familiar critique of the "privilege of white dominance" was the notion that separating writing from politics is itself an act of exclusion. "When a student takes time to point this out by stating the simple facts," she said, "that student is often read by white writers in positions of authority as problematic and ungrateful."

She went on to offer an example of what "some of you white people" could do to at least make "race acknowledgment" part of their worldview. She read a poem by the white poet Joshua Weiner, "Cloak," about a childhood summer day, and then his own lengthy revision (inspired by Rankine), which reinstated a black friend he'd had at the time — as well as the backdrop of school busing in late-'70s Trenton — thus turning an amorphous elegy into a many-layered political critique.

Then, unexpectedly, Rankine turned the revisionist impulse on herself...
Please find the full report at Vulture.