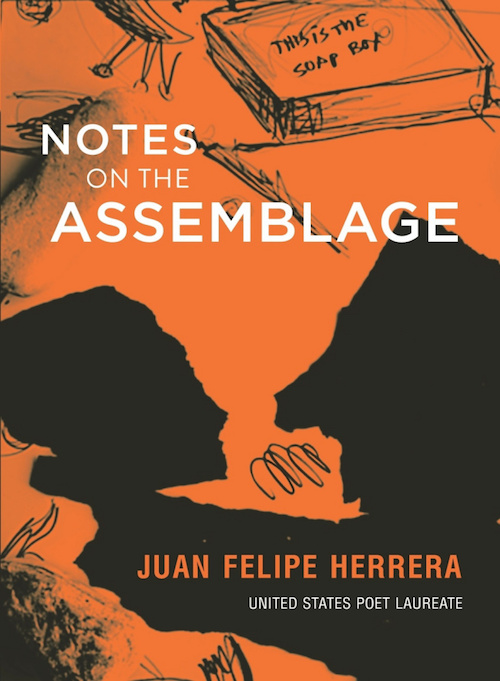 Up at Letras Latinas blog is an exclusive interview with U.S. poet laureate Juan Felipe Herrera, conducted by Luis Lopez-Maldonado. The conversation ranges across Herrera's career, working backwards from his most recent collection Notes on the Assemblage, then considers Herrera's previous writing, while the two also discuss the intersections of art and the political. We'll begin with a discussion of how his most recent collection came together; then we'll widen the aperture:
LLM:
With twenty-nine books published so far in your career, how does Notes on the Assemblage differ from other collections of poetry that have come before it? Why was it important to let the world see these poems, amidst the waves of violence, racism, and hate we are currently experiencing as a country and people?

JFH:
It is different in that it is literally an "assemblage" of poems-on-the-table. Usually, I write a thematic collection even though it wavers and moves in various directions. This one was an outcome of a years-long draft of a poetry text called "The Soap Factory." The piece was too conceptual and I felt the moment called for a more grounded collection. Its main pillars had to do with the notions of "Big Data vs Story, numbers and patterns vs identity, closed-tier militarized narratives vs open-tier peoples cultural life ways, security vs public flow."

Also -- on my "table" I happened to have poems that I had written for various tragic events and also eulogies for poets and departed friends of mine as well as scraps of "The Soap Factory." And some new ones. It was a good experiment in making a book outside of the Novelistic-Conceptual trend that has taken hold of poetry book making.

To me the book is important because of its odd-mix and its homage poems, it's bilingual texts and the Taoist pieces. These are all new directions for me...
Now stepping back for a wider perspective on Herrera's writing:
LLM:
Personal history, including of experience, familia, and upbringing, seems to be threaded throughout much of your past work. We see this again in this new work. Why is it important for you to include such information in your work? Do some of your memories trigger new works, in general, or do you bring these images from your past, into a work after you have already started writing? Do you feel it is important as a poet to write from the heart and expose your self so that your voice reaches all audiences and invites others to do the same?

JFH:
Good question -- yes. My generation has been one of giving primary significance to socio-cultural dimensions and the relationships of power and culture. For me, it's also extremely important to give the poem "weight." What I mean is that each poem must contain depth, darkness, reality so it can undulate in various directions - rather than have a one-dimensional text. Of course, there are many ways to make the poem curve and insightful.
Head to Letras Latinas now for this must-read!