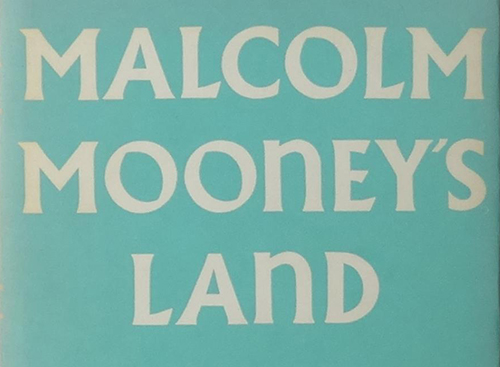 The Editors' Blog occasionally features online exclusives by Poetry's contributors. This installment comes from David Wheatley, whose article "So Much Better Than Most Things Written on Purpose" appeared in our November 2015 issue. Past exclusives can be found here.
The centenary of the birth of Scottish poet W.S. Graham in 1918 is fast approaching, but September 2016 marks another anniversary: fifty years ago this month Graham's "Malcolm Mooney's Land" appeared in Poetry. It was not Graham's first appearance in Poetry—several poems had appeared in the forties and fifties during Graham's "New Apocalypse" phase—but it coincided with his re-emergence from the mid-sixties onwards after an absence during which, notoriously, his publisher Faber & Faber decided he must be dead. The publication of Don Share's edition of The Poems of Basil Bunting this year has reintroduced American readers to one of the most significant British modernist poets, but while Bunting can give the impression of writing in thistly isolation in Northumberland, he was not without fellow strugglers in the cause, and none with stronger claims on an international readership than the Greenock-born Graham.
The poetry export market is prone to booms and busts, and it is sobering to note how little trace on American poetry Graham's earlier adventures in the U.S. had left. In 1947 he was awarded the Atlantic Award for Literature and was briefly engaged as a lecturer at New York University. Given the combination of alcoholic bravura and social anxiety to be found in almost all the anecdotes that embroider Graham's legend, it is intriguing to wonder what manner of performances he gave. Graham's failure to become a bibulous cynosure on the New York circuit may have been all for the best, given the unfortunate self-destruction of the much-lionized Dylan Thomas in that city six years later. Had Graham died young like Thomas, we would be remembering a very different poet from the one he became. As it is, his forties work (all four books of it: The Seven Journeys, Cage Without Grievance, 2ND Poems, and The White Threshold) possesses a family resemblance to that of his fellow Scottish poet Norman MacCaig. Responding to the hermetic nature of MacCaig's early work, a friend asked, "Yes Norman, but when are you publishing the answers?"  Graham by contrast never disowned his forties poems, nor did he have any truck or traffic with the rationalist movement takeover of the fifties. Instead, he moved to Madron in Cornwall, where he would live among the artists of the nearby St Ives School, in considerable poverty, for the rest of his life. At this safe distance from metropolitan distractions he matured his style in a clutch of masterworks published over three decades, before his death in 1986.
"'Malcolm Mooney's Land' is a kind of floating conception of place," writes Tony Lopez in his 1989 study The Poetry of W.S. Graham. It is also, he adds, "a place of terror and madness, inhabited by monsters, beasts and gods." More mundanely, the name may derive from a chain of bars operated by Guinness. The fearsome and the familiar hatch a distinctively Grahamesque alliance: though often set in forbidding and frozen landscapes (the poet was an enthusiastic reader of polar journals), later Graham poems have an unfailingly companionable side, strongly focused on the act of communication. The important sticking point, though, is Graham's sense of language as a refractory rather than a transparent medium. As he asks, "Have I not been trying to use the obstacle /Of language well? It freezes round us all." Ideally, the difficulty of language becomes its own solution: "Make my impediment mean no ill /And be itself a way." In his Gargantua and Pantagruel, Rabelais describes paroles gelées, "frozen words," turned to ice during a cold winter and not becoming audible until the following spring. Words in Graham need unfreezing from the wastes of silence, and his images of footprints in snow match the poet's strong sense of utterance as an inscription or trace he leaves in his wake:
From wherever it is I urge these words
To find their subtle vents, the northern dazzle
Of silence cranes to watch. Footprint on foot
Print, word on word and each on a fool's errand.
Someone else who exhausted one style and moved on to another in his later career is Ludwig Wittgenstein, who decided he had solved the problems of philosophy with his Tractatus Logico-Philosophicus in 1921, and promptly became a schoolteacher in rural Austria instead. He would later relent, but also like Graham never lost his fondness for out-of-the-way locations (including Norway and Iceland) as reservoirs of independent thought. In "Implements in Their Places" Graham describes himself as occupying the "Chair of Professor of Silence," and there is something impeccably Wittgensteinian about the coaxing of meaning out of silence that drives "Malcolm Mooney's Land." Among the most-quoted lines of later Wittgenstein is the claim that, even if a lion could speak, we would not understand it; and in part two of the poem Graham notes that a fox, possibly that of the Arctic explorer Nansen, has been silently visiting at night, "Not that I'd have him call my name" (the weather must be too cold for the "sudden sharp hot stink" of Ted Hughes's "Thought Fox"). Speech or no speech, there is an expectation of magic in the air. Graham's Madron home did not have a telephone, so the thought of his Arctic explorer hearing a "telephone ringing deep /Down in a blue crevasse" stretches credibility in an enjoyably absurd way. But the voices are patently coming from somewhere.
Wittgenstein's Tractatus ends with an unsurpassable threshold of silence ("Whereof one cannot speak, thereof one must be silent") but "Malcolm Mooney's Land" plays a kind of hopscotch along the border between linguistic presence and absence: silence "refuses to be broken now /By what I thought was worth saying […] Now I construct /A new silence I hope to break." With his "rimed bag of sleep," Graham's speaker is a belated Ancient Mariner, adrift on his mysterious quest. Yet the poem combines icy solitude with a Buberian care for the I-Thou encounter and relationship. Who, for instance, is the mysterious but central "Elizabeth" figure who first appears in section one? When the poem shifts to the second person, in section three, the closeness is that of explorers struggling along together in the snow:
The blizzard grew and proved
Too filled with other voices
High and desperate
For me to hear him more.
I turned to see him go
Becoming shapeless into
The shrill swerving snow.
Readers of The Waste Land will hear an echo of that poem's "Who is the third who walks always beside you?" passage, inspired by Shackleton's journal of his Antarctic expedition, with its suggestion of Christ joining the apostles on the road to Emmaus. There is no obvious Christian dimension to Graham's shadows in the snow, and when the poet compares the whiteness of the page to that of the snow we sense his need to master and internalize the extreme conditions, rather than merely hold them at bay. He finds himself on a "far-off edge," where "colliding voices" are audible, but this is precisely the place his strangely sexual "furry queen" has chosen for their rendezvous.
The poem's last section is written in short trimeter lines, which Graham seems to have found especially appealing (they turn up later in the book in "The Dark Dialogues" and "Wynter and the Grammarsow"). The speaker addresses Elizabeth and "the boy," assuring her that they "Have been with me often /Especially on these last /Stages." Alone in his arctic wastes, perhaps he is losing his hold on sanity. He suggests Elizabeth read the boy a story, involving an "old sulphur bear /Sawing his log of sleep /Loud beneath the snow." The "sulphur bear" makes for a rather Narnian addition to the poem's dramatis personae, and by the time the tale reaches the boy reality and fiction will have become a fantastical blur (how different is the memory of a hallucinated bear from the memory of a real one?); not for nothing does Dennis O'Driscoll call the end of the poem "a triumphant metamorphosis." Still, the note struck by the final stanza is glacially tragic, capturing the "mind of winter" with all the visionary grandeur of Wallace Stevens's "The Snowman":
I have made myself alone now.
Outside the tent endless
Drifting hummock crests.
Words drifting on words.
The real unabstract snow.
Malcolm Mooney's Land may be Graham's single best book; it is certainly one of the great books of poetry of the last half-century. The struggle with language it records is a lonely one, but in no sense is this poetry that occurs in a vacuum. It is telling that Graham's most recent editor, Matthew Francis, titled his study of the poetry Where the People Are ("Because always language / Is where the people are"), underlining Graham's communitarian understanding of his art, even and all the more so when solitude is at issue. Natalie Pollard draws attention to this same side of "Malcolm Mooney's Land" in her Speaking to You: Contemporary Poetry and Public Address, noting the floating nature of identity-markers in Graham's writing: "Mooney is treated as a space into which the writer and reader project themselves," allowing us to discover that Mooney can be both "I" and "you" at once.
Graham has yet to be the subject of a biography, but the photographs in David Whittaker's W.S. Graham & Cornwall are a mix of the poet in furious-looking meditation and in high-spirited gregariousness (shots of Graham singing in company over a drink, and even composing on the pub darts blackboard). As the accounts of Nansen, Scott, and Shackleton's expeditions all suggest, you don't explore the poles without getting to know your fellow-travelers rather well. Rarely since Coleridge's Ancient Mariner, though, has a poet succeeded more dramatically in taking his audience by the arm and commanding their interest in his eldritch tale. Like Elizabeth Bishop, Graham is a classic poets' poet, and has attracted affectionate homages from many fellow writers, including Harold Pinter, Edwin Morgan, Matthew Sweeney, and Rachael Boast. The 2018 celebrations will be an important opportunity to reaffirm his status as a major modernist poet, but for those yet to venture into these visionary wastes, "Malcolm Mooney's Land" makes for an exemplary point of entry into this endlessly rewarding poet's work.
David Wheatley is the author of four poetry collections with Gallery Press, including A Nest on the Waves (2010), and the critical study Contemporary British Poetry (Palgrave Macmillan, 2014). He lives in rural Aberdeenshire, Scotland.