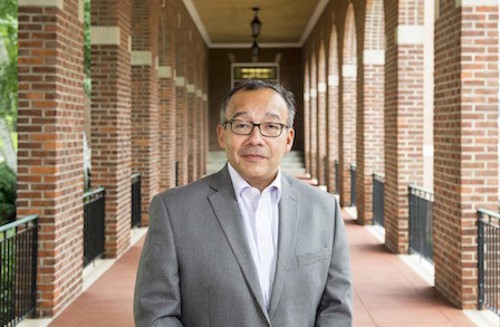 Current Ruth Lilly Fellow Javier Zamora interviews José B. González for the Letras Latinas blog in what director Francisco Aragón calls a "curatorial sweet spot." We'd agree! González will be reading at the Poetry Foundation next March as part of a national initiative called: "Because we come from everything: poetry and migration" (more on that to be sure).
For now, these two are talking about González's new book, Toys Made of Rock, Latinx students and the hypocrisy of institutions, and how the book might "offer hope and inspiration to students who face obstacles and ostracism and that it can also get educators thinking of how they can be influential in a positive way." More on that:
[José B. González:] ...When my parents first came to the U.S., they left my sister and me in El Salvador to live with our grandmother. First my father came, then my mother. I was too young to have a full memory of my father leaving, but I remember that when my mother left, I was stunned. It was one of the worst days of my life. I think about that now as a parent—what kind of fortitude would it take to leave my children behind? And I get a better sense of the sacrifices they made. As you say, the immigration patterns have changed. And now more and more families are being separated not only when parents leave, but also when children come to the U.S. on their own. And to top it off, if they make it here, these children face unprecedented levels of antagonism. I certainly didn't experience such a horrible situation, but I do hope that by reading my book, audiences can get a better sense of what that separation and immigration process can be like. And after they read my book, I hope that they can be moved to action and make sure that immigration doesn't have to end tragically. To that child whose family's desperation has resulted in being alone, I'd say, there is strength in your family's journey, and though it may not seem like it at times, that strength will shape you into someone whose life will ultimately be changed for the better.

[Javier Zamora:]
You begin with children and end the book with the following three words:

"immigration, isolation, desolation."

Are these themes that you see evolve from the act of immigrating? In Leisy J. Abrego's book, Sacrificing Families: Navigating Laws, Labor, and Love Across Borders, this seems to also be the thesis: that immigrating forever separates families. Is your book a reflection of that reality? How can you complicate or back that narrative? http://www.sup.org/books/title/?id=20152

JBG:
Absolutely. The political imagination has made immigration synonymous with criminality, and perhaps that shouldn't be surprising, given that in a weak economy, pointing the finger at immigrants is nothing new. Yet, somewhere along the line, isolation and desolation have been ignored. Too many have forgotten or chosen to ignore the fact that when families are separated, there is bound to be traumatizing pain. As a result, stories about immigrants overcoming that isolation and desolation are even more rare. When we consider that each immigrant journey is unique, and that each experience of isolation and desolation is different, we see how much is missing in the "immigrant narrative." That's why books like Abrego's are so important, especially since they break down and deconstruct identities and experiences. My book does cover these themes, but at the same time, I dream of how incredible it would be if narratives about immigration were also a way to learn about inspiration? And to that end, I hope my book can accomplish that.
Read on at Letras Latinas blog.