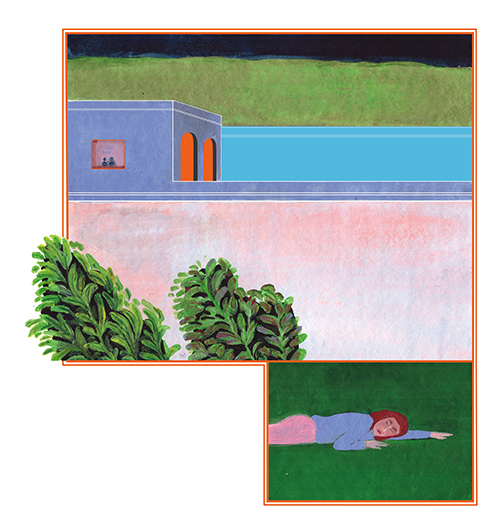 The French painter and illustrator Marion Kadi first wrote to Poetry in May 2014, with the salutation "Hello from a distant shore..." Kadi included an array of work that she thought we might like, which we did. And then we slept on it.
For over 100 years we've relied on work that comes over the transom, and now more than ever we look forward to submissions of visual art (including visual poetry, which you'll soon see a lot more of). But we're slow. Sometimes, very. Undaunted, Kadi kept in touch with updates peppered with charms like, "If a few of my paintings remind you of something, it's not because you've seen them at the MCA, it's simply because I wrote you once."
Kadi's patience and careful persistence (with great attention to our ongoing cover publications) paid off two years and one month later when she wrote perhaps my favorite pitch line ever: "I sent you my work several times already and I think you like it." She ended with the sweetest postscript: "even though I am not a poetry writer—I will publish my first book in France in the fall—and I think what the Poetry Foundation is doing is great. That's why I insist on sending you my illustrations."
So after 700-some nights we have the good fortune of Kadi's Mille et Une Nuits for our October cover. I mention this all to dispel some of the mystery behind our covers, and also as an encouragement to the many bright stars who dream their work on Poetry or wherever. Yes, you!
I recently asked Kadi to comment on her painting for the October 2016 cover and to send more work for your viewing pleasure. That's all below, and we couldn't be happier.

When I painted the image used on the cover, I was looking often at Indian miniature painting from the Mughal Era and at fifteenth-century European illuminated manuscripts. I was fascinated by the nature and the architecture depicted. As in many of the manuscript illustrations, it is unclear whether my painting depicts two different places or two different times. In a single medieval image the same character can perform different actions at different times. Interiors and exteriors are depicted side by side. I was inspired by the openness I saw in the illustrations.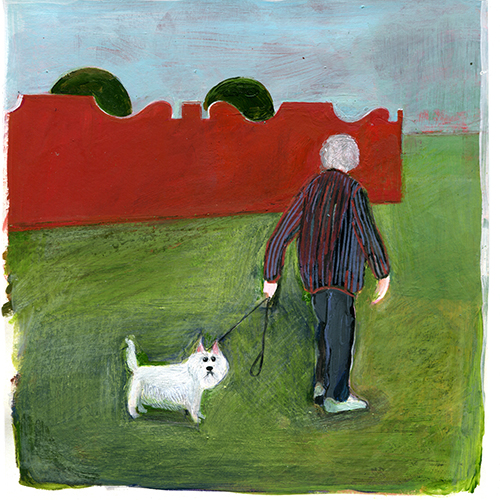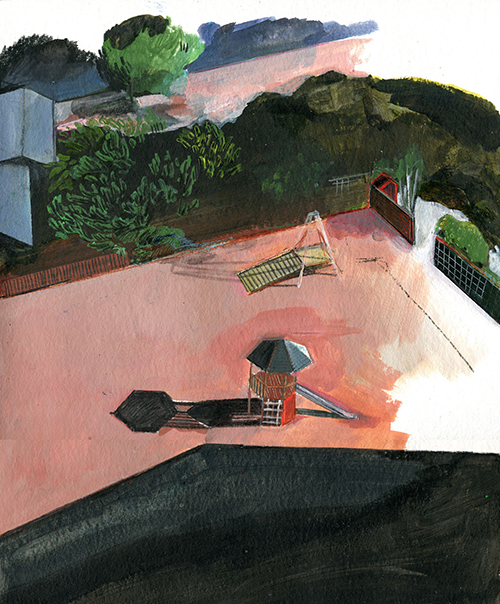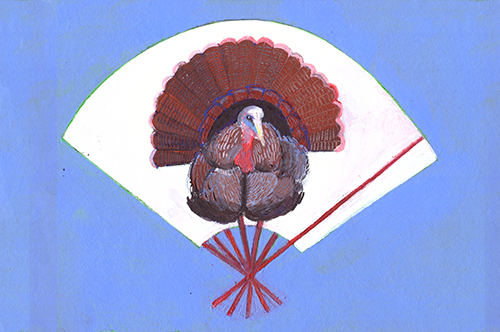 If I can't find the right movement, I sometimes play the characters from my paintings. I didn't need to mimic the turkey.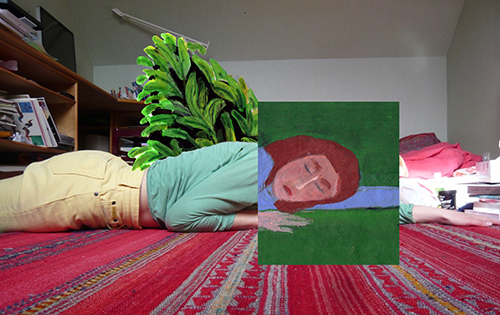 I recently participated in an interdisciplinary collaboration game called 7x7. I co-created a story with writer Keith Wagstaff by exchanging paintings for prose every other day for two weeks. I started with the image below: find the rest of the story at 7x7.la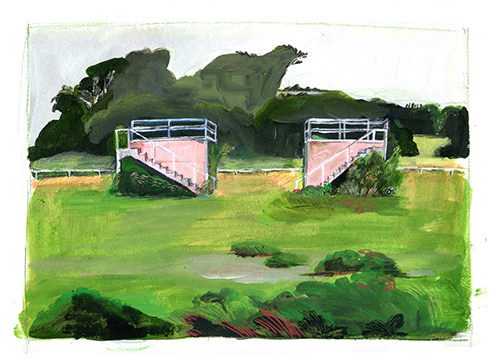 I've just co-written a children's book in which Isaac Newton takes a trip to the moon. It will come out in December from a French press called Les Petits Platons. I am working on another children's book that I will both write and illustrate.