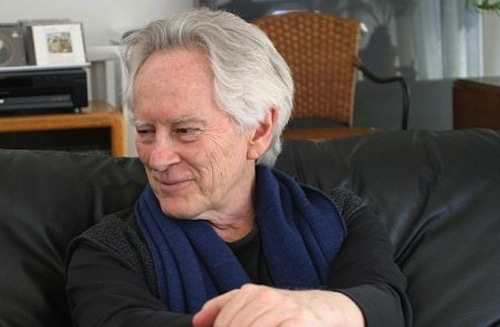 Jonah Raskin reviews two new books of poetry by Michael McClure and devorah major over at SF Gate. Raskin begins by resisting the urge to compare the two volumes, finding such literary comparisons to be "odious," but ends up connecting the similarity-dots between the two very different poets. He writes:
Michael McClure and devorah major both have deep roots in the Bay Area, where poetry is always in the air and on stage, and where someone, someplace is always writing and reciting new poems that break and remake the rules.

Both major and McClure are City Lights poets with new books, and both are star performers who have worked with fellow writers and artists: He with the Beats and Ray Manzarek of the Doors; she with the Daughters of Yam and Opal Palmer Adisa. While he loves capital letters and words, she's committed to lowercase, as in her latest collection of poems, "and then we became," the title of which alters readers to her lilting, rhythmic voice and her inimitable style.
Raskin spends the lion's share of the review looking into major's and then we became, and focusing on the sense of place in her work:
major's poetry moves from San Francisco's Mission Street and the Tenderloin (she's a former San Francisco poet laureate) to Africa, and from there to the far reaches of the universe. It conjures ancestors, honors memories of mothers, daughters and sisters, and traces births, beginnings and the origins of all things, including language and poetry itself, which major frames as a shield, a sword and as a healing salve.
When he turns to McClure's latest collection, Mephistos & Other Poems, Raskin feels less enthused by new work from an old master, but nevertheless grateful for this late collection:
McClure's "Mephistos & Other Poems" is about twice as long as "and then we became" and perhaps not as immediate or accessible. The first person pronoun "I" shows up repeatedly, as in the first line in which all the words are capitalized: "NOW I UNDERSTAND THE SEXUAL ADDICTION/" followed by the second line: "of my young manhood."

The "I" in "Mephistos" is probably McClure himself, or perhaps one of his many personae. Now 84, he looks back at his youth, gathers his passions and roars as though he hears dying and death around the corner. In "Mephistos," McClure means to "rage against the dying of the light" to borrow the quintessential phrase from Dylan Thomas's poem "Do not go gently into that good night."
Read on as SF Gate! And if you feel like McClure gets short shrift, there's much much more McClure you can sink your teeth into right here.