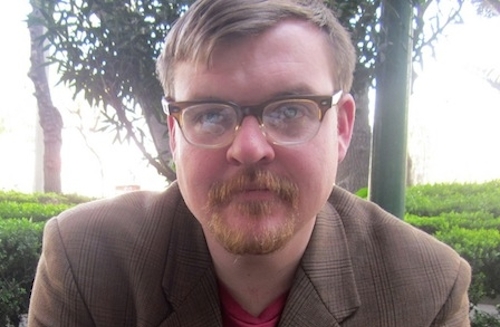 Hyperallergic hosts a conversation between poet, translator, art writer Brandon Brown and Geoffrey Cruickshank-Hagenbuckle. Stemming from Brown's most recent collection The Good Life, their conversation approaches topics ranging from translation, Sol Lewitt, to a biography of Rutherford B. Hayes.
Brown: "In part, I write about what's in front of me. And what's in front of me at any given moment could be a biography of Rutherford B. Hayes (that fucker!), a Frank Ocean tune, a strawberry Caviar Cone, The Phenomenology of Spirit, The Hunger Games (book or movie), a painting by Manet, a bottle of lube, a plate of tagliatelle with ragu d' fangiano, etc. Whatever I am includes those things, all of them, and without any hierarchy. No argument is less interesting to me than whether Richard Wagner is better or more important than Mean Girls. I deeply distrust anyone who hasn't had their lives redeemed by a pop song."
We'll pick up with their conversation there:
G C-H: Isn't it also true that you enlisted other authors to translate certain poems included in your The Poems of Gaius Valerius Catullus (189 pages), and then issued them irreverent instructions, which you list in the book's notes?

BB: That's right. I was interested at the time in the Sol Lewitt model of providing instructions for other artists to make one's work. I'm more cynical about that now I guess, having become more experienced with the visual art market in which Lewitt and others made work. Now it seems a little gross, although I don't think what I ended up doing in my book was that gross. Still, it has much less appeal. I'm tremendously grateful to the friends who made a translation for the book, and I hope they like the poems they made. And I guess I still think it's a pretty good idea (if you're foolish enough to translate 144 poems by any given author) to try and share the labor.
Read on at Hyperallergic.