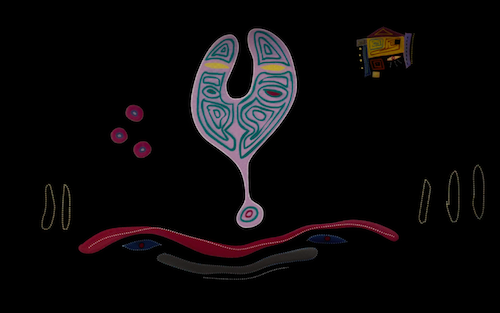 Would Federico García Lorca have approved of "The Sleepwalker," a creative interpretation by animator Theodore Ushev of his poem, "Romance Sonámbulo"? This is the question over at Open Culture, which featured the piece yesterday. It's worth watching, if not for the (quite jumpy!) "purely visual language" (Ushev jettisoned the words!) of surrealist painter Joan Miró, then for the dreams you might have later. Their answer:
Possibly. [Lorca] had great admiration for Miró, whose paintings he declared "the purest of all images" in a public lecture on modern art at Grenada's Athenaeum:

They come from dream, from the center of the soul, there where love is made flesh and incredible breezes of distant sounds blow.

Animator Ushev is another who's put a lot of stock in dreams:

I wanted to create a joyful film, that makes the public happy – inexplicably happy. The surrealist movement was a play, a game itself. I often start my masterclasses with the quotation, "The life is a dream (and everything is a game)." It is a modified version of the romantic belief of another Spanish writer – Pedro Calderón de la Barca. This little film can be seen as such – an allegory over the joy and mystery of life.

His take may confuse those who've been debating the original poem's far-from-joyful meaning.

There are recognizable forms … Lorca's "gypsy girl," for instance.

What's going on?

Ask a toddler what's he or she sees.

A wounded contraband runner dragging himself back to his forbidden lady love?

A grief-stricken Juliet throwing herself in a cistern?

More likely, dancing, and lots of it, thanks to the irresistible score – Bulgarian musician Kottarashky's "Opa Hey."

(Ushev made a conscious decision to expand the gypsy theme beyond Lorca's native Andalucía to the Balkan region.)
Find the video, and the full text (in English) of "Romance Sonámbulo," at Open Culture. The poem as originally written, in Spanish, is here.