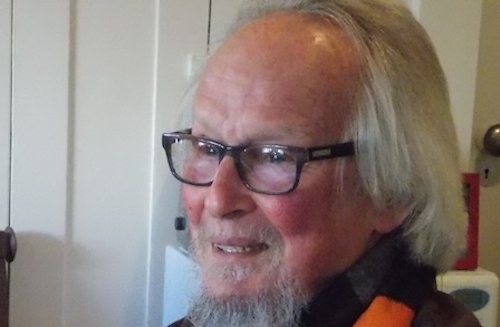 At Abandon All Despair Ye Who Enter Here, poet and City Lights editor Garrett Caples pays homage to poet and City Lights author, David Meltzer. Meltzer, who passed away last weekend on the verge of 80, moved to San Francisco in 1957 and had been a crucial part of the city's poetry scene ever since. Caples writes, "His loss is especially felt here at City Lights, with which he's been associated since 1961 when he co-edited with Lawrence Ferlinghetti and Michael McClure the first issue of the Journal for the Protection of All Beings." More:
David would later publish three projects with City Lights—San Francisco Beat: Talking with the Poets (2001), a book of interviews; When I Was a Poet (2011), a book of poems; and Two-Way Mirror (2015), an expanded reprint of his book of writings on writing poetry—as well as write forewords for Marilyn Buck's Inside/Out (2012) and Van Morrison's Lit Up Inside: Selected Lyrics (2014). But this barely hints at the extent of his oeuvre as a writer and multifaceted cultural worker, and David always seemed to land on the coolest presses, like Auerhahn, Oyez, Black Sparrow, Semina. True to form, the productive and protean poet had just completed a new project, guest-editing with Steve Dickison a new issue of their music-oriented mag Shuffle Boil as the seventh issue of Nick Whittington's Amerarcana.

David was, of course, a legendary figure among the legendary Beat Generation. The youngest poet to appear in Donald Allen's New American Poetry: 1945-1960 (Grove, 1960), Meltzer was arguably the most vital link between San Francisco's beat counterculture of the '50s and its hippy counterculture of the '60s, through his hosting of the Monday night hootenannies at the Coffee Gallery in North Beach—attracting the likes of Jerry Garcia, David Crosby, and Janis Joplin—as well as his leadership of the psychedelic folk band Serpent Power, which dropped its eponymous debut on Vanguard Records during the Summer of Love. But if you'll permit me to omit a full rehearsal of his accomplishments—or at least to direct you to such accounts elsewhere—I'd like instead to simply note the magnitude of his death in terms of its impact on the Bay Area poetry community. David's been part of this community since moving to San Francisco in 1957. His associations among the scene's renowned practitioners are wide and varied, everyone from Spicer and Duncan to Rexroth and Ginsberg to Wieners and Hirschman to Kyger and di Prima to Berkson and Coolidge. Perhaps even more significantly, he taught writing and literature at New College of California for 30 years, mentoring and influencing hundreds, those officially enrolled as well as those in the school's wider orbit. I myself was lucky enough to get to know him in 2010 while serving as his editor for When I Was a Poet, and the number of my good friends who have been touched by him in some way—up to and including my fiancée—is almost comically vast, not to mention the circle of more casual acquaintances I only know through David himself.
Continue at Abandon All Despair Ye Who Enter Here.