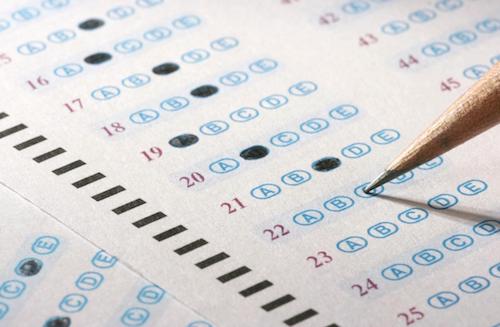 In a recent Washington Post opinion piece, performance poet Sara Holbrook shares her frustration when she discovered an inaccurate reprint of her poem, "Midnight," on Texas state assessment tests. She also calls into question the test maker's decision to include her poem, "A Real Case," in the 2014 Grade 7 STAAR Reading Test. "Let me begin by confessing that 'A Real Case' is my most neurotic poem," she writes. "I have a pile of them to be sure, but this one is the sour cherry on top. The written evidence of my anxieties, those evil gremlins that ride around on tricycles in my mind shooting my self-confidence with water pistols. How in the name of all that's moldy did this poem wind up on a proficiency test?" More:
Dose of reality: test makers are for-profit organizations. My poems are a whole lot cheaper than Mary Oliver's or Jane Kenyon's, so there's that. But how would your vulnerable, nervous, number two pencil-gripping seventh grade self have felt opening your test packet to analyze poetic lines such as this:

I'm just down with a sniffly case/of sudden-self-loathing-syndrome … an unexpected extra serving/ of just-for-now-self-hate.

Seriously? Hundreds of my poems in print and they choose THAT one? Self-loathing and self-hate? Kids need an extra serving of those emotions on testing day?

I apologize to those kids. I apologize to their teachers. Boy howdy, I apologize to the entire state of Texas. I know the '90s were supposed to be some kind of golden age, but I had my bad days and, clearly, these words are the pan drippings of one of them. Did I have a purpose for writing it?

Does survival count?

Teachers are also trying to survive as they are tasked with teaching kids how to take these tests, which they do by digging through past tests, posted online. Forget joy of language and the fun of discovery in poetry, this is line-by-line dissection, painful and delivered without anesthetic. One teacher wrote to me last month, working after 10 p.m., trying to figure out the test maker's interpretation of my poem "Midnight." This poem isn't quite as jarring as "A Real Case," simply symptomatic of aforementioned neuroses: It's about insomnia.
Continue at Washington Post.